Celebrity Groomer Spills on Making Hollywood's Men Look Hot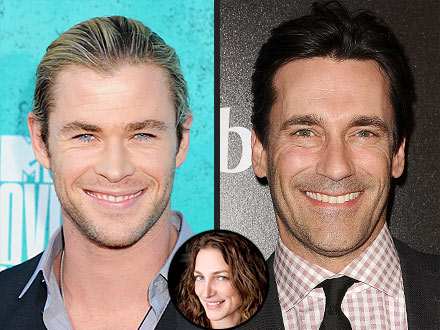 FilmMagic (2); Inset: Courtesy Matt Beard
Sure, stars like Chris Hemsworth, Jon Hamm and Zac Efron look smoking at their movie premieres, but let's be real: it's not like they're getting themselves ready for these events! That task falls to the very skilled hands of celebrity groomer Diana Schmidtke, who has coiffed the tresses and perfected the complexions of Hollywood's hottest leading men.
"It all started with going to beauty school," Schmidtke tells PEOPLE. While training, "I saw that the hair and makeup artists were always having the most fun on set."
As she rose through the ranks, the Illinois native groomed guys for junkets, award shows, magazine covers, talk shows and ad campaigns. Now, she travels the world with her clients — Hemsworth (and brother Liam), Efron and Hamm plus Christian Bale, Robert Pattinson, Alexander Skarsgård and Seth MacFarlane, to name a few — prepping them for any and every photo opp that comes their way.
A favorite memory from her trips abroad? "I will never forget when we were on tour for Twilight," she shares. "Roughly 2,000 kids in Brazil broke through security gates and filled the hotel lobby. We had to be on lockdown for 90 minutes until security could clear the lobby."
However, it's not all so wild: the schedule can be taxing, and as Schmidtke admits, "It's really hard promoting a movie that everyone knows is going to bomb, but having to go through the motions anyhow."
The job is challenging, too; though some people think it might be easy to style a guy's hair, "Men's grooming encompasses hair, skin and body, not just the latest hairstyle," Schmidtke explains. "It is my job to be an expert in all three categories, and I have to be very precise. Men can't use gobs of makeup or elaborate hairstyles that women use, but men care about their looks just as much, if not more, than women."
But that's what truly makes her love her work. As she shares, "I have the opportunity to make people look and feel their best through the art of beauty."
LADIES: TRY THESE BRAIDS, PONYTAILS AND UPDOS FOR SUMMER!
Skip back to main navigation