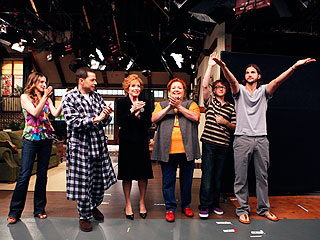 As if Ashton Kutcher needed another adoring fan.
"I'm already converted to the cult of Ashton," Jon Cryer, his Two and a Half Men costar, told Ryan Seacrest on the red carpet at the Primetime Emmy Awards at Los Angeles's Nokia Theatre Sunday night. "You will be too."
Kutcher, 33, who will make his debut on the CBS sitcom Monday – a casting change-up following Charlie Sheen's infamous departure from the show – is "a great guy," Cryer says.
"I like him," he says. "He's younger, taller – it's a totally different thing."
As for Sheen's departure, Cryer says, "I get it, I get it. … But I've made my peace with it."