Kelly Osbourne: Go Get the Knockoffs!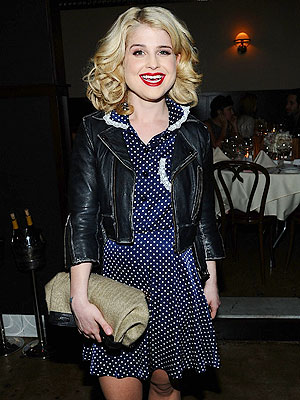 Michael Buckner/WireImage
Kelly Osbourne's fashion motto? "You don't have to be rich to look good."
Sure, easy for a starlet to say, but the Fashion Police host believes that it's best to save money on clothes — and splurge on the big stuff. "Go get the knockoffs," she tells PEOPLE. "Save your money to get a nice bag and a nice pair of shoes. Nobody knows that you're not wearing what it is meant to look like. That's what I do. Most of the stuff I wear is really not that expensive unless it was given to me."
Some of those nicer pieces include Miu Miu and Opening Ceremony threads, though the Brit has a soft sport for Vivienne Westwood corseted dresses, "because I've got a small waist and it really shows that part," she shares. "It makes me feel skinnier than I really am, so I like it!"
And Osbourne, who modeled for Madonna and Lourdes Leon's Material Girl clothing line last year ("It did make me feel amazing and it will forever and that experience is on my list of best things I've ever done," she gushes), is feeling even more confident about fashion these days.
In fact, the star says her personal style "is still evolving every single day. I'm becoming an adult, I'm growing up. It changes." Calling herself "the girliest tomboy you'll ever meet," Osbourne admits she loves wearing gowns and dressing up, but also has those moments when she pines for her casual clothes.
"As soon as I'm in that gown, I don't know how to walk or sit properly," she jokes. "But I feel beautiful!" For more with Osbourne, pick up the latest issue of PEOPLE, on newsstands now.
–Reporting by Jackie Fields
SHOP STAR LOOKS — FOR LESS!
Skip back to main navigation