Kendall Jenner Treats Cancer-Fighting Tween to a Fun Fashion Night Out
Stylewatch
Style News Now
09/12/2012 at 02:30 PM ET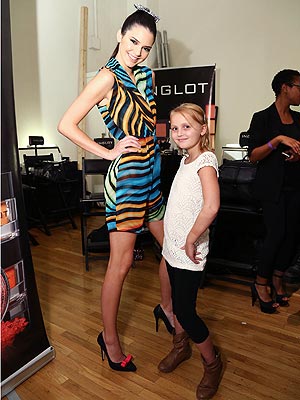 Sara Jaye Weiss/Startraks
There's been a lot to focus on this month: the 9/11 anniversary, the MTV Video Music Awards, Fashion Week. But something big has flown quietly under the radar: the fact that September is also Childhood Cancer Awareness Month. Kendall Jenner was one big star to recognize that this week, inviting a 9-year-old fashion fan — who's battling neuroblastoma — to join her at a Fashion Week show.
Young Morgan Pierce "is a little fashionista," her mom Emily tells PEOPLE. "She loves absolutely everything fashion."
Jenner, hearing about Morgan, invited the tween to Tuesday night's Style 360 Tumbler and Tipsy show (Style 360 founder David Manning helped facilitate, too). Morgan was diagnosed with cancer four years ago, was cleared one year later, but has since relapsed twice, and comes to New York's Memorial Sloan-Kettering Cancer Center from her home in Florida for treatment.
Going to Tuesday night's show "was a great distraction" for Morgan, Emily says. Jenner gave her guests the VIP treatment, getting them front-row seats, goodie bags and a backstage tour during hair and makeup, before hitting the catwalk herself. Women's soccer star Alex Morgan came over to say hello, too. "It made it so special that Kendall was actually interested in September being Childhood Cancer Awareness Month," Emily adds. And her daughter "was really excited to cheer Kendall on."
Emily, who documents her daughter's progress on sparklyflower.com, says Morgan is doing "well," despite her illness. "She's starting to understand the importance of spreading awareness, so being able to meet a celebrity like Kendall, and have her be interested in helping, is becoming more and more important to her," she explains.
But it's also — quite obviously — been a challenge for the Pierce family. "We try to make this a part of everyday life, and raise our kids to understand that there are hardships in everyone's lives, and that we just have to move forward. We're going to deal with it and help as many kids as we can."
When not receiving treatment, Morgan is busy "styling everyone she knows," Emily says. "She's always had this passion, and she's very good. From a young age, she paged through fashion magazines, putting together the looks she loved and creating her own style."
And hopefully, in a few years, she can fully realize those dreams as a stylist or designer — as long as Childhood Cancer Awareness Month gets the attention it deserves. "It doesn't get a whole lot of recognition," Emily laments. "So that's why we're just so appreciative to David and Kendall for being so interested in what's going on."
To donate to children's cancer research, visit cookiesforkidscancer.org. And to learn more about Childhood Cancer Awareness Month, visit bandofparents.org.
–Kate Hogan
CATCH UP ON MORE GREAT STORIES AND SHOTS FROM NY FASHION WEEK
Skip back to main navigation