Kim Kardashian & Kris Humphries's High-School Yearbook Shots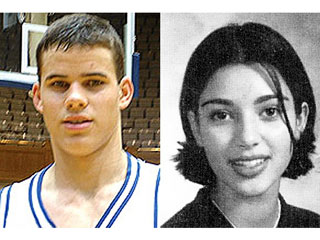 Seth Poppel/Yearbook Library

Cute, but maybe not wedding-album worthy.
Here are Kris Humphries, now 26, and Kim Kardashian, 30, back in their high-school freshmen days. He wasn't quite the strapping lad of 6′ 9″ he is today, nor was she the voluptuous beauty – yet.
Minnesota native Humphries attended Hopkins High School in Minnetonka, a suburb of Minneapolis, while Kardashian's alma mater was the private, all-girls' Roman Catholic school Marymount, in Bel Air, Calif.
Saturday, in case you haven't heard, the two are tying the knot.
– Stephen M. Silverman
E! News will air footage from the wedding Sunday at 6 p.m. ET/PT, and a two-part special, Kim's Fairytale Wedding: A Kardashian Event, will air Oct. 9 and 10, only on E!
For exclusive personal photos from Kim's fairytale wedding and all the details, pick up the new issue of PEOPLE, on newsstands next week

Skip back to main navigation