Melissa McCarthy: 'Good Drag Takes a While!'
Stylewatch
Style News Now
02/05/2013 at 05:30 PM ET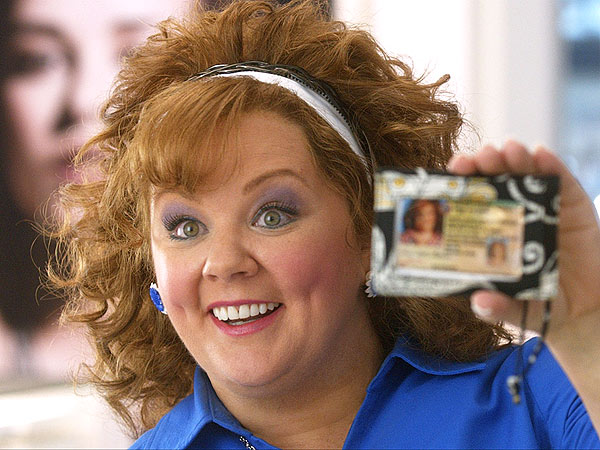 Universal Pictures
What's funnier than Melissa McCarthy? Melissa McCarthy in ridiculous hair and makeup. And lucky for us, the star dons some crazy-bad (or good, depending on how you look at it) crunchy curls and '80s-inspired eye shadow, blush and lipstick in her new film, Identity Thief.
"It was so fun to put all that together," McCarthy said of her character's beauty choices at the film's L.A. premiere on Tuesday. But it also was labor-intensive to look that (awesomely) cheesy. "[It took] maybe two hours — an hour and a half [to put it on everyday]. Good drag takes a while!"
To create her character Diana's signature style, McCarthy started with her frizzy, teased and permed mane. "I'm obsessed with wigs, so I started there and once I sort of locked into [a hairstyle], it was kind of more is more [when it came to makeup]," she told reporters.
When it came to Diana's over-the-top purple and blue eyeshadow, McCarthy looked to an old soap star for inspiration. "I kept saying, 'Donna Mills's eyes!' So we just kept piling [makeup] on, and then one day [the character] appeared."
McCarthy's reaction when she finally saw herself as the identity thief? "I thought, I'd like to spend a couple of months with her!" Tell us: Are you excited to see McCarthy's new movie?
–Jennifer Cress, reporting by Melody Chiu
PHOTOS: SEE MORE BOLD BEAUTY LOOKS IN 'OBSESSED OR HOT MESS'
Skip back to main navigation