Nigel Lythgoe Preps for Royal Visit BAFTA Event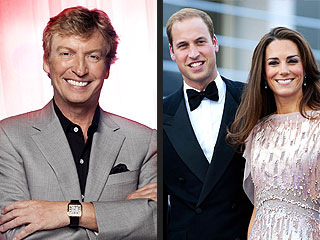 Michael Williams/FOX; Eddie Mulholland/REX USA
Nigel Lythgoe can now add the title "royal party planner" to his overwhelming resume.
The reality star producer and judge is helping coordinate the British Academy of Film and Television Arts "Brits to Watch" event on July 9 at the Belasco Theater in Los Angeles, which will welcome Prince William and Kate.
"On behalf of BAFTA I would like to say, 'It's absolutely fantastic,'" Lythgoe said of the opportunity to host the royal newlyweds adding, "On behalf of Nigel Lythgoe, 'Aaaaaaahhhhh!'"
When it comes to planning such a prestigious event with the royal couple in town, Lythgoe is feeling the pressure. "It's really tough," he tells PEOPLE. "We've had to keep it secret for so long because we couldn't reveal anything because of security, so now … we are running around."
Lythgoe and countless volunteers are working tirelessly to organize and arrange the event so that all 42 artists-to-watch, selected by BAFTA, will be highlighted properly at the event. "My job is to put together a big video film of how successful Brits are here in America," Lythgoe says.
The invitations are out, and at each table for eight, the higher echelon of film and television companies will join two Brits, he explains, "So it is very exciting for the young talent."
The A-list event will blend Hollywood star power with royal elegance. "The whole concept of ["Brits to Watch"] is that we are introducing emerging British young talent to the elite of Hollywood," Lythgoe says. "And of course, Prince William and Kate are acting as the magnets that will draw the superstars to the event. But in truth we are enjoying doing this for the British Academy."
William and Kate kick off their North American tour Thursday when they arrive in Ottawa.
Skip back to main navigation