Nina Dobrev and Carmeron Diaz both looked stunning at Monday night's Met Gala — but there's a lot of difficulty involved in looking so good.
"It was so form fitted and made of vintage gold metal, and so tight. It was beautiful," Dobrev said of her Donna Karan Atelier gown while speaking to Conan O'Brien Wednesday. "They literally had to sew me into it so everything fit and then they sent me off!"
The talk show host called the whole fiasco "medieval," and asked how the Vampire Diaries star was able to go to the bathroom. "You call the designer and they have an emergency sewing kit, they cut you out of it, and then they'll sew you back in," she explained, adding that she tried to avoid bathroom breaks all night but eventually had to give in. "You write on your phone, 'It's go time. Now,'" she joked.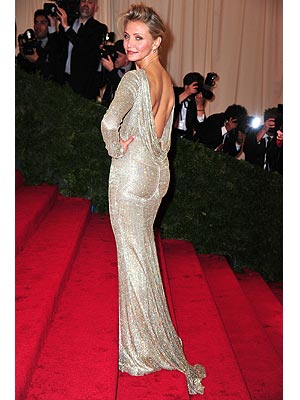 Gregorio T. Binuya/Everett
Diaz didn't have any bathroom emergencies on Met Ball night, but she was carrying some extra weight. "That was a 22-pound dress!" the actress told Jimmy Fallon on Tuesday. "It was heavvvy."
What added such heft to the gold Stella McCartney gown? Rhinestones. "It was just strips and strips of rhinestones," Diaz explained. "[Stella] sends me this email on Friday, like 'Babe, your dress might be a little heavy.' I put it on … for the last alteration and it's 30 pounds. We managed to cut eight pounds out of that dress. My knees are so sore today!"
–Jennifer Cress
LOOK BACK AT THE MET GALA'S BEST-DRESSED HERE!
« What Would Tom Say? Tattooed Isabella Cruise Enjoys PDA Packed Lunch 'Dark Shadows' Guest Review: 'Muddled Shadows' is More Like It »