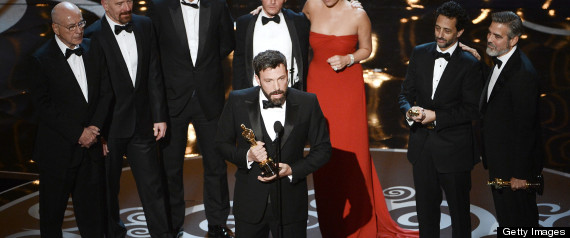 Ben Affleck accepts Best Picture Oscar for 'Argo.'
It was a night of ups and downs at the 85th Annual Academy Awards: newbie Oscars host Seth MacFarlane delivered hit-or-miss jokes, some speeches were dull and others made us laugh, and the musical performances struck a chord or fell flat.
In the rather fast-paced awards ceremony, there weren't many surprises. Expected favorites like Anne Hathaway and Daniel Day-Lewis took home their Oscars and gave run-of-the-mill, heartfelt speeches.
If you missed the show, Moviefone has amassed the best and worst moments for you.
(Click here for the complete list of winners.)
BEST: Jennifer Lawrence on the Red Carpet

This actress is so endearing, it's nearly impossible to hate her. First of all, she announced how "starving" she was when she hit the red carpet (never heard <em>that</em> one before), and then she tried to joke around with pal Emma Stone by yelling into E!'s Mani Cam: "Your ass is mine, Stone!" Oh, and she fell on the way to get her Best Actress award but quickly laughed it off. Fun all around.

WORST: Seth MacFarlane's Racial Jokes

Every time MacFarlane ventured into racial-joke territory, the theater went silent. It's just not the right venue for that kind of humor. Ever.

BEST: Long, Blond Hair — on Men

Claudio Moranda (Best Cinematography, "Life of Pi") and the sound editing/sound mixing winners certainly showed us something: long, <a href="http://www.vulture.com/2013/02/long-hair-man-oscar-winner.html">blond hair is an absolute necessity</a> if you want to win.

WORST: "Jaws"-ing People Off the Stage

Someone made the decision to play the "Jaws" theme (of the shark lurking in the water) to play people off the stage. It worked for the music/visual effects awards, but other than that it was just weird and inappropriate.

BEST: "We Saw Your Boobs" Song

We have to admit <a href="http://www.crushable.com/2013/02/24/entertainment/we-saw-your-boobs-video/">this song was cute and clever</a>, and it was a lively way to start a 3+ hours show.

BEST: William Shatner Saving the Day

Only Shatner's smug, gruff humor could complement MacFarlane's opening monologue. Just as it started flailing, Shatner appearance on a big screen added some much-needed levity. Also: "Star Trek" suit — loved it.

WORST: Boring Speeches

Seriously, with the exception of Ben Affleck, Daniel Day-Lewis and Ang Lee, these speeches put us to sleep. Everyone trod that fine line of neutrality — probably to play it safe.

BEST: Seth MacFarlane, JGL, and Daniel Radcliffe Dancing

We never thought we'd see this happen, and we're so glad it did.

WORST: A Whole Lotta Chenoweth

Apologies to all the Kristen Chenoweth fans, but it was a lot to take if you're not a fan. Her red-carpet coverage got a bit repetitive with her constant references to her short stature, and then they closed the Oscars with a Chenoweth performance. Bookends are a tad excessive.

BEST: Jennifer Hudson's Performance

To think this woman is the same one we saw win the Oscar for "Dreamgirls" in 2006 is really mind-blowing. Her pipes are still the same (read: amazing), but everything else about her is different. Kudos, Jennifer, you look awesome.

BEST: Adele Performing/Winning for 'Skyfall'

Even though everyone knew that she'd take home the Oscar for Best Song, it was still such a treat to hear her sing it. When accepting her award, she was also genuine, passing off the microphone to her producer instead of hogging the limelight.
Related on Moviefone:
Related News On Huffington Post:
Filed by Chris Jancelewicz  |