Stylewatch
Style News Now
04/19/2013 at 05:58 PM ET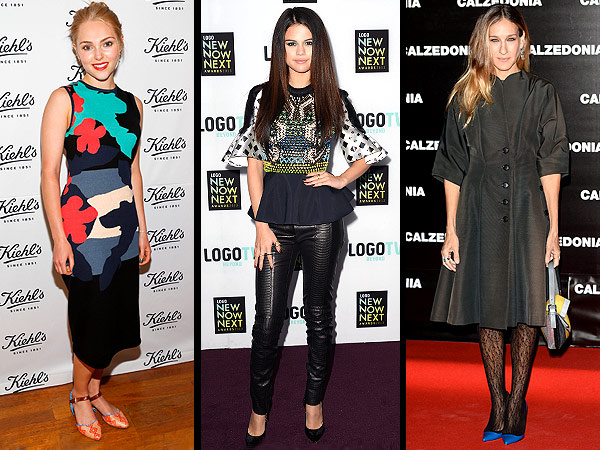 Imeh Akpanudosen/Getty; LuMarPhoto/AFF-USA; Venture
In our weekly round-up of what we're seeing sizzle (and fizzle) on the red carpet, we noticed that stars were really into bold prints and patterns — but leaving their heavy winter wear behind.
Up: Funky shoes. No silly-putty pumps or boring black heels for many stars this week. In fact, both AnnaSophia Robb and Katy Perry wore head-turning flats from Aldo, while we saw sexy studded heels on Olivia Wilde and colorful striped sandals on Olivia Palermo. We're now fighting the urge to do a total shoe closet overhaul.
Up: Bold Pants Outfits. Selena Gomez, Gwyneth Paltrow, Hailee Steinfeld and even Jennifer Aniston all ditched pretty dresses for something much more striking and statement-making: the dramatic pantsuit. Strong shoulders, graphic prints and structured tailoring made these looks totally traffic-stopping.
RELATED PHOTOS: Vote on more star style here!
Down: Heavy, Dark Looks. Don't get us wrong: We like all the components of Sarah Jessica Parker's look individually. But at a time when hemlines are getting higher, tights are getting stashed and coats are headed to the dry-cleaners before going into storage, this whole outfit together feels a little drab. Nothing wrong with a coat worn as a dress (as Princess Kate knows well): It just needs a slimmer silhouette and a more spring-friendly fabric.
For more on which trends to follow check out our thoughts on clear clutches and mixing brights.
–Alex Apatoff
RELATED PHOTOS: Vote on each star's best angle in "Style 360!"
« 'Mud' Exclusive Clip: Reese Witherspoon Is Tired of Waiting for Matthew McConaughey (VIDEO) Boston Manhunt Over: Suspect #2 Captured Alive After Gunfight With Police »