Stylewatch
Style News Now
02/01/2013 at 06:00 PM ET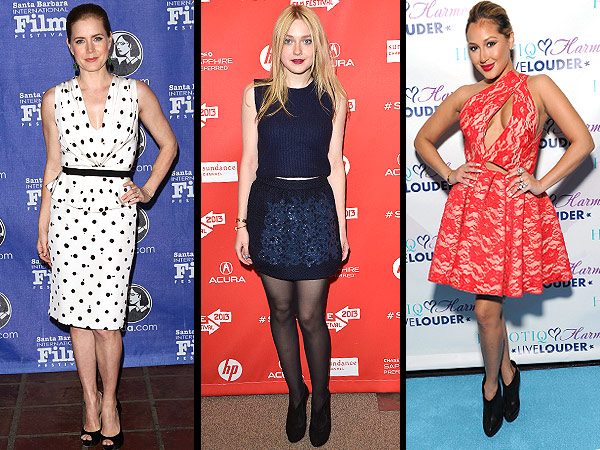 FilmMagic; Getty; Startraks
What made its way on our fashion radar this week? A classic pattern that's making a strong comeback and a sweater style we haven't worn since middle school. We expect to see more of these looks at all the various awards season parties and events. What we hope we don't spot: A certain frock that reveals way too much skin.
Up: Polka Dots. The retro print made a major comeback this week. Emmy Rossum stepped out in a navy-and-white Stop Staring number (it's just $ 170!) and Amy Adams slipped into an elegant black-and-white peplum Jenny Packham design.
Up: Cropped Sweaters. We prayed this moment wouldn't happen but it looks like ab-baring tops are back and celebs like Dakota Fanning, Amanda Seyfried and Jessica Biel are wearing them with everything from skirts to skinnies. If you don't have a six-pack, pair a shrunken sweater with a high-waisted bottom or layer over a longer shirt like Biel did. 
Down: X-Rated Slits. Actresses take note: Slits that show this much skin are best left for the legs. And that's why we don't expect to see stars sporting awkward cleavage slashes like Adrienne Bailon's anytime soon. (Not to mention party dresses with clunky booties!)
For more on up-and-coming trends, check out our thoughts on furry accents, slits and red accessories.
Tell us: What types of trends are you hoping to see more of on the red carpet? Vote in our poll below! 
Take Our Poll
–Jennifer Cress
PHOTOS: SEE OUR FAVORITE DRESSES OF AWARDS SEASON — SO FAR!
« Check Out the Poster for Gallowwalkers , Starring Wesley Snipes Best of the Week: Sundance 2013 Favorites, All About 'Warm Bodies,' and More »