Stylewatch
Style News Now
12/14/2012 at 06:00 PM ET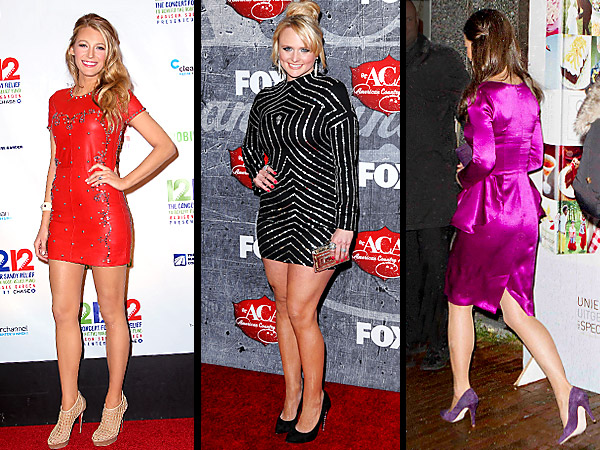 Startaks (2); Ramney
If 2013 is anything like the end of 2012, it's certainly going to be a stylish year: This week, ladies in red dominated the carpet, while stars in super-sexy minis also had a major moment. But since gowns with interesting backs are gaining popularity, one certain staid style of dress is on its way out.
Up: Red, red and more red: Red is always a popular color choice during the holidays, but this week the shade was taken to a whole new level as countless stars wore it head-to-toe — literally — on lips, dresses and shoes. Anne Hathaway, Kirsten Dunst, Taylor Swift and Jaime King donned red pouts; Amanda Seyfried chose the hue for her lips and shoes; and Blake Lively, Lena Dunham, Freida Pinto and Megan Fox slipped into red-hot frocks.
Up: Long-sleeve mini dresses: The chilly weather isn't stopping anyone from flashing some serious leg: Miranda Lambert, Fergie, Kristen Stewart and Emmy Rossum left their gowns at home and instead wore long-sleeve dresses with thigh-grazing hemlines. (Hey, at least the top half of the look is keeping them warm.)
Down: Boring from the back: This week, Hathaway wore two dresses with statement backs and Cate Blanchett also exposed her backside in an all-white gown. And since both stars made such a huge splash on the carpet, we bet more stars will skip the basic backs (like the one on Pippa Middleton's purple dress) and try something more dramatic in the months to come — something that could land them in our Style 360 gallery and Better From the Back Tumblr, of course.
Tell us: Which trend are you most excited to try? Vote below!
Take Our Poll
Want more Trend Report? Click to hear what we think about cut-outs, crazy sleeves and peplum.
–Jennifer Cress
GET ALL THE LATEST RED CARPET NEWS AND PHOTOS HERE!