Stylewatch
Style News Now
03/15/2013 at 06:00 PM ET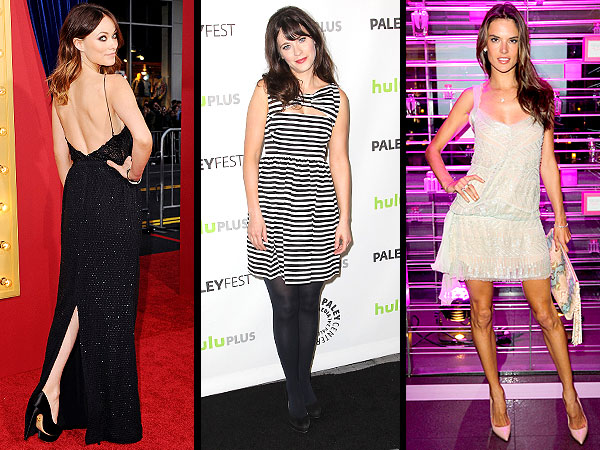 FilmMagic; Splash News Online; WireImage
If you make it a habit to model your looks after what's hot in Hollywood (we do!), you're going to want to check out this week's style prospectus, which breaks down the two trends on the rise (you've seen 'em both before, but not like this!) and a dress silhouette that is on its way out. And we can't say we're sad to see it go.
Up: Center slits. Once a side show, slits are migrating to the front and back of dresses, providing a sexy, yet subtler touch. Olivia Wilde wore one on her sequined Gucci gown for a killer rearview. Kirsten Dunst also selected a dress with a center slit, though hers was down the front of her Proenza Schouler LBD.
Up: Black-and-white stripes. When we think of formal prints, stripes isn't the first pattern that comes to mind. But we have a feeling we'll see quite a few guests (and maybe even bridesmaids) at all our upcoming spring weddings wearing this nautical-inspired trend. Zooey Deschanel was ready-carpet-ready in her Kate Spade New York dress, but she wasn't the only one giving formal stripes a try; Olivia Wilde selected broad ones for a premiere and Nina Dobrev went for funky alternating broad, narrow and printed stripes at a benefit.
RELATED PHOTOS: Vote on more star style here!
Down: Drop waists. It's a universally accepted fact that Victoria's Secret models like Alessandra Ambrósio look amazing in absolutely anything. Which is why we can't hate on the Angel's Philosophy di Alberta Ferretti mini. That said, we don't expect the drop-waistline of her dress to catch on. It's a tough look to pull off, not all that flattering on curves and can add poundage around the belly area.
For more on which trends to follow check out our thoughts on navy and slicked-back hair.
Take Our Poll
–Zoë Ruderman
PHOTOS: VOTE ON MORE STAR STYLE HERE!
« 'Walking Dead's' Dallas Roberts joins 'Unforgettable' Season 2 on CBS Jude Law Lawsuit: Actor's Career Too Hot for Fireplace Ads »