Te Amo! Halle & Olivier Jet to Spain with Nahla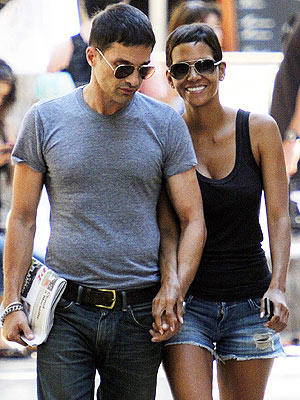 • Taking a break from Berlin where she's shooting Cloud Atlas, Halle Berry enjoyed some time off in the Spanish island of Majorca with beau Olivier Martinez and daughter Nahla. The couple held hands as they shopped in the outdoor market in Palma. They later headed to a café for a coffee break – where Martinez also read a French-language newspaper.
• In the Big Apple, Justin Timberlake had a guys' night out with Diddy and a group of friends at the launch party for the blog Love by Isabel Adrian. And it was a late night: Timberlake arrived after 2 a.m., listened to music, drank champagne and danced to house music. "Justin was really letting go and enjoying himself," an onlooker tells us.
• Rose McGowan was chatting up Joe Manganiello at a W magazine bash at New York's Park Avenue Armory. Before the actress arrived, the True Blood star worried that she may not remember him, even though they had done a table read together last year. But his fears were unfounded, and the two sipped champagne as they caught up, while checking out a performance by British singer Katy B.
• Sean Penn and girlfriend Shannon Costello shared burgers and soda at The Counter in Santa Monica, Calif. The actor was wearing a suit and they were "affectionate towards each other," an onlooker says of their lunch date. Adds the onlooker: "[They were] constantly smiling during conversation."
• By PAUL CHI, JENNIFER GARCIA, CARLOS GREER and PETER MIKELBANK
Skip back to main navigation