Stylewatch
Style News Now
03/23/2013 at 09:00 AM ET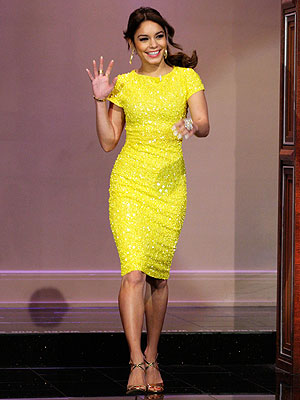 Stacie McChesney/NBC
For a while this week, Vanessa Hudgens had a 100% "Love It" vote (now still a strong 96%) in "Last Night's Look," and we weren't a bit surprised.
That's because her sunny $ 495 Alice + Olivia "Taryn" dress, worn with golden Jerome C. Rousseau heels, Doves earrings and a $ 41K (!) Demarco flower ring, was a personal best for the star.
RELATED PHOTOS: See star style from every angle — then vote for your favorite!
Her olive complexion and phenomenally fit figure are both perfect for the clingy, bright dress, and the accessories are spot-on. We'd like to advise her to tack this above her mirror to help fight her natural impulse to go over-the-top.
A close second this week was Stacy Keibler in snow-white Escada and nude heels, with a 94% "Love It" vote. There seems to be an important lesson to be learned from these two striking celebs: often, the simplest looks make the biggest impact.

Was Hudgens your best-dressed star this week? If not, who was?

–Alex Apatoff

PHOTOS: See more star style in "Last Night's Look: Love It or Leave it?"
None found.
« 'Last Man Standing' Season 2 finale: Was the return of Jonathan Taylor Thomas everything you wanted? Happy Birthday Melissa! Real Housewife & Husband Joe 'Gorge-a' On Meatballs To Celebrate »