Tilda Swinton 'Fortunate' to Have Fashionable Friends Dressing Her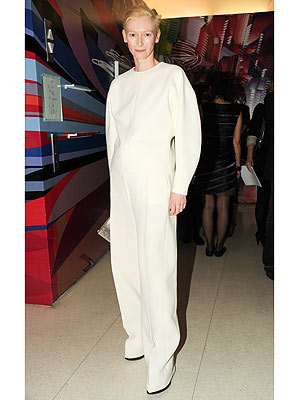 Neil Rasmus/BFAnyc/Sipa
She sometimes wears outfits too complex to understand, but Tilda Swinton's role as a fashion icon is indisputable. So it's surprising to hear that the most major tool in the actress's arsenal of style is something, well, quite unconventional.
"For me, it's just a matter of having a box cutter to open the [dress] box," she told PEOPLE at New York's Core Club Tuesday night during a screening of Here, a short film she co-wrote for the Luxury Collection Hotels and Resorts. "I turn up in a pair of old corduroy trousers, and I'm very fortunate to have friends who send me boxes [with gowns]," she continued. "It's like the Cinderella complex. It's the friends that make the effort, not me."
Swinton, who wore a sharp white Céline suit to Tuesday's event, said that often, her couture outfits fit with minimal tailoring. "There is a little effort that goes into the planning, like, weeks ago," she admitted, "but at this stage, it's only a matter of opening the box."
That will likely be the procedure Sunday night, when Swinton dresses up for the Screen Actors Guild awards (she's nominated for best actress for We Need to Talk About Kevin). However, with her film out of the Oscar race, the actress doesn't think she'll attend the big awards on Feb. 26 — and is slightly relieved she won't be looking for yet another outfit. "It would be a luxury problem," she said, "but it's a win-win situation, if you know what I mean."
Regardless, Swinton's friends and admirers (Anne Hathaway and Simon Doonan among them) always look forward to the star's fashion moments. "It's effortless," model Agyness Deyn, who stars in Here, told PEOPLE. "She's so talented … such an amazing person." Tell us: Are you a fan of Swinton's style?
–Jeffrey Slonim
GET PUMPED FOR THE NEXT ROUND OF RED CARPET MOMENTS
Skip back to main navigation