What's Really Under Those Elaborate 'Downton Abbey' Costumes?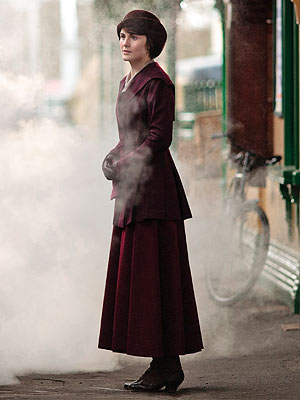 Nick Briggs/ITV/PBS
We know — it's really hard waiting for Downton Abbey season three to being in January. And while we can't offer any casting or plot morsels to keep you sated until that fateful winter day, we can help tide you over with a few fun tidbits on the period drama's elaborate costumes.
According to star Michelle Dockery (left), when the cast is in costumes, they're wearing historically accurate items — down to their knickers.
"The corsets are made for us," she explained while speaking to reporters at a recent TCA panel at the Beverly Hilton in Beverly Hills. "And there are things you don't get to see, like the mic packs that are strapped to our calves and the wire [that] goes right up."
Another under-the-skirt secret? "When it is raining, we wear Ugg boots underneath our dresses," she admitted. "It's not as glamorous as it may seem."
What is glamorous, though, are the costumes themselves; according to Dockery, "some of them are vintage pieces — original pieces that have been revamped." And though some are "falling to pieces," she revealed, the show's famed costume department is "determined to use them as much as possible." Tell us: Are you excited for more Downton Abbey?
–Reporting by Patrick Gomez 
SEE MORE STARS IN COSTUME IN 'LIGHTS! CAMERA! FASHION!'
Skip back to main navigation