What's Up with Hair Rolls?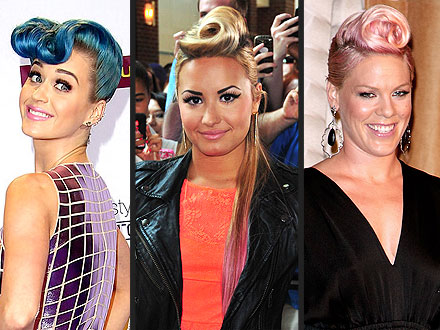 Getty; Splash News Online; Startraks
We're all for sweet rolls … but when they're in our tummies, not our hair! Lately, several stars have been sporting retro, pinup-inspired hairstyles, and while different, we can't decide if we're quite on board.
Katy Perry kicked off the trend at Berlin's ECHO Awards in March, curling her then-blue bangs up over the top of her head. Demi Lovato followed suit last weekend, giving her long, pink-tinged blonde hair a bit of a front bun at X Factor auditions in North Carolina. And Thursday, P!nk did the same, punching up her black jumpsuit with a colorful rolled hairstyle and dangly earrings.
We're all for trying something new — fashion is supposed to be fun! — but are these retro hairstyles an old trend we're ready to retry — or should they stay in the style vault? And why are we suddenly so hungry? Tell us: Would you try a hair roll?
TRY ON STAR HAIRSTYLES IN OUR INSTANT MAKEOVER
Skip back to main navigation