Why Lenny Kravitz Was Jealous of His 'Hunger Games' Costars' Costumes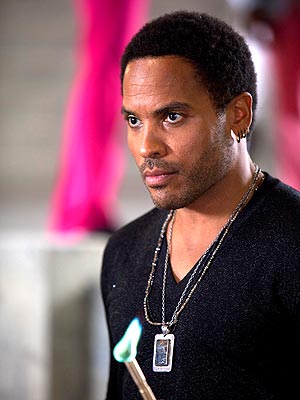 Murray Close/Lions Gate
Lenny Kravitz may play a stylist in The Hunger Games, but don't expect to see him on screen in the over-the-top fashions worn by his costars.
"I couldn't compete with that," he said of the colorful, detailed getups worn by costars Elizabeth Banks and Wes Bentley. "But I was jealous as me, Lenny Kravitz, the person who likes to wear things."
Kravitz envisioned a much less avant-garde look for Cinna, the stylist and confidante of the Hunger Games's heroine, Katniss Everdeen (Jennifer Lawrence).
"When I told friends that had kids that I was doing this film and playing Cinna, they were like, 'Oh, yeah, he's like super flamboyant and super out there,'" he told reporters at a recent Los Angeles press day for the film. "The first question I had to get was, 'How far do you want to take this?' Was this going to be like the Fifth Element? Was I going to be like Chris Tucker? What was it going to be?"
Ultimately, the inspiration for Cinna's look came from a surprising source: modern-day designers and fashion icons. "We discussed it and thought that it would be really interesting to pull him back and make him more like a Tom Ford or an Yves Saint Laurent," Kravitz explained.
It's an interesting choice for a character tasked with creating some of the most highly anticipated looks since Bella Swan's Twilight wedding dress.
"Cinna basically wears waistcoats, shirts and slacks, and he's very clean," Kravitz said. "The goal is his touch of The Capitol, his touch of glam, but he's more subdued."
Added Banks, "It's like Cinna's little sign of rebellion already that he doesn't embrace [the Capitol fashion]." Tell us: Which Hunger Games character are you most excited to see on screen?
–-Jessica Wedemeyer
CATCH ALL THE LATEST "HUNGER GAMES" NEWS AND PHOTOS HERE
Skip back to main navigation