Chloë Moretz: Nobody Else Dresses Like Me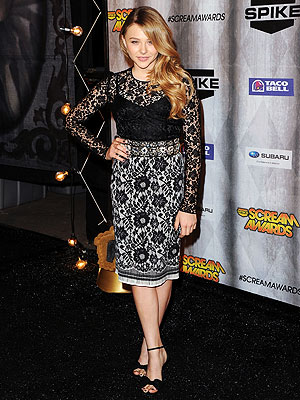 Jason Merritt/Getty
As heels get higher, necklines become more daring and hems skew shorter, 14-year-old Chloë Moretz says she's staying above the influence.
"I think you can push the boundaries in a way of edginess, but I think you should try to stay appropriate to your age, definitely," she tells HollywoodLife.com.
Much like her teenaged contemporary Elle Fanning, who recently said she likes when people call her style "weird," the Hugo star would rather garner attention for unorthodox tastes. "I like to push the boundaries in what I wear, in that it's new and kind of funky. I'm usually a bit different than almost everyone else on the carpet."
Case in point, as stars flocked to Wednesday's People's Choice Awards in looks currently unavailable to the public, Moretz opted to wear a tweed frock from Proenza Schouler's pre-fall 2010 collection, a version of which is currently available for $ 250 on RentTheRunway.com.
Perhaps the choice was a nod to her reasonable spending habits: "Chanel gave me my first two Chanel purses ever," she says when asked if she owns designer duds. "They're just so classic."
–Justine Harman
CHECK OUT MORE AFFORDABLE STYLE IN: 'STAR LOOKS FOR LESS'