Mark Badgley, James Mischka Reveal the Celebrity They're Dying to Dress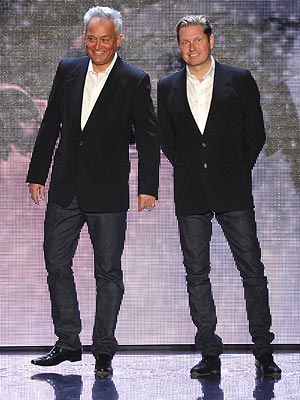 Mike Coppola/Getty
On Tuesday morning, designers Mark Badgley and James Mischka gave fashion's finest a Valentine in the form of their fall 2012 collection. Their gorgeous gowns — all red carpet-ready — were inspired by Metropolis, a 1927 German impressionist film.
"It's always been kind of in the back of our minds," Mischka told PEOPLE Tuesday before the show. "But then it was released on DVD in November, and we were all of a sudden inspired by it again. It's all about a strong point of view, about angles, lights, geometry, glamour."
Though the movie is in black and white, the design duo added pops of color to their collection in the form of emerald green accents and intricate beading. "It's a very New York, black-based collection," Badgley said.
Front row fans like Kelly Osbourne, Erin Andrews, Kate Mara and Joan Rivers ate it up. "It was so beautiful," Osbourne told PEOPLE. "It reminded me of a mix between Scarface and silent films." Rivers agreed. "I thought it was so glamorous. It was really a New York winter show."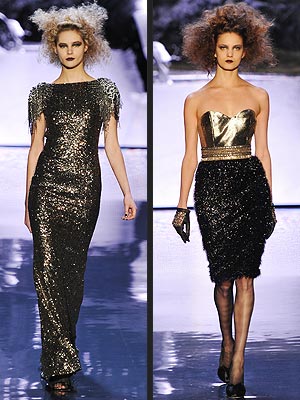 Mike Coppola/Getty (2)
Though Badgley Mischka gowns are a red carpet staple these days, the designers didn't set out to make an impression in Hollywood. "When we started, that whole red carpet thing hadn't begun yet," Badgley explained. "But now it's snowballed, and it's fun. There's nothing that's more of an honor than when you see one of your dresses marching down the red carpet, especially when you know the history behind it: what it took to get it through the sewing machine, how it was conceived from the initial sketch."
In recent months the designers have dressed Dame Helen Mirren, Rumer Willis (who was a face of the brand) and Melissa McCarthy. "We're a big fan," Badgley said of the comedienne. "She's hysterical and we love her."
But there is one big star they're still dying to dress: Uma Thurman. "We've been doing this for a long time, but we've never dressed her," Badgley admitted. "She has that old Hollywood glamour thing to her. We would like to get to her some day."
–Kate Hogan and Jeffrey Slonim
SEE MORE STARS SITTING FRONT ROW AT FASHION WEEK