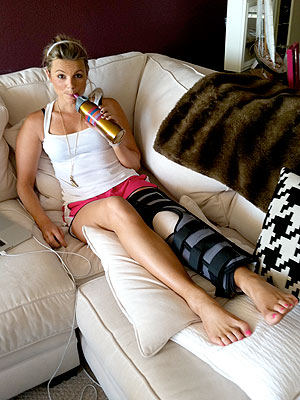 Former Bachelorette Ali Fedotowsky has had to put her wedding plans with fiancé Roberto Martinez on hold while she recovers from an injury to her femur, for which she underwent surgery in July.
"We had a date set, and that date has now passed," the reality starlet, 26, told PEOPLE on Tuesday. "The decision to postpone [the wedding] was very difficult. I definitely shed some tears."
"But I want to walk down the aisle," she said, "I don't want to limp down the aisle."
Instead, the couple spent their would-be wedding day together.
"It was one of the best days we've had, just me and him," Fedotowsky, who feels no need to rush the nuptials, said.
"In my mind, Roberto is my husband," she said. "We live together; we do everything together; we plan for the future together; we fight just like a good old married couple. The only thing that's not saying "I'm married" is another ring on my finger and a piece of paper."