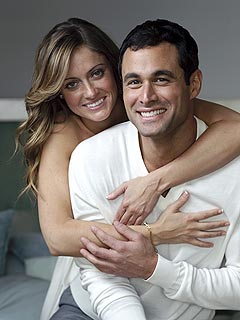 Kwaku Alston/Stockland Martel

When it comes to a long-lasting relationship, former Bachelor couple Jason Mesnick and Molly Malaney have some words of wisdom to share with The Bachelorette's recently engaged couple, Ashley Hebert and J.P. Rosenbaum.
"Don't rush," Mesnick, 35, tells PEOPLE. "Just because you met on a TV show and just because you now have a ring on your finger doesn't mean you have to get married in three months. Maybe it's a year. Maybe it's two years. Just make sure the relationship works the way you want it to."
And, adds Malaney, "focus only on each other. Do not let the media guide your life."

Like their courtship, Malaney and Mesnick's nuptials were televised. The couple, who live in Seattle, have decidedly stayed away from the limelight since. They endured their fair share of media scrutiny following a 2009 stint on The Bachelor, in which Mesnick initially proposed to Melissa Rycroft. He had a change of heart and ended their engagement so that he could pursue a relationship with Malaney.
"We're both grateful we were on the show when we were because [the media attention] is a lot worse now," Malaney, 27, says. "The show is on the covers of magazines every single week and it's lies after lies after lies just to sell these magazines. Focus on each other. That's what's important."