Exclusive First Look: Beyoncé's Atlantic City Concert Costumes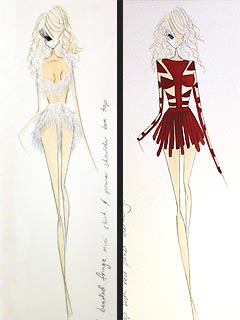 Courtesy Swarovski
Sasha Fierce is back — and better than ever! New mom and World's Most Beautiful woman, Beyoncé, shined on stage Friday night at the newly launched Revel resort in Atlantic City wearing one-of-a-kind Ralph & Russo designs.
Her first show "ran rampant, functioning as an almost continuous high point," according to Ben Ratliff of The New York Times. Highlights included "Single Ladies (Put a Ring on It)," "Run the World (Girls)," "Halo," "Countdown" and "1+1." "With her all-female band and 10 dancers, she performed with serious stamina and rigor," Ratliff mused.
Clad in fine form, Beyoncé, who confessed to a case of nerves prior to her first performance since giving birth to Blue Ivy, revealed her amazing post-baby body in custom-made costumes truly fit for a Queen B.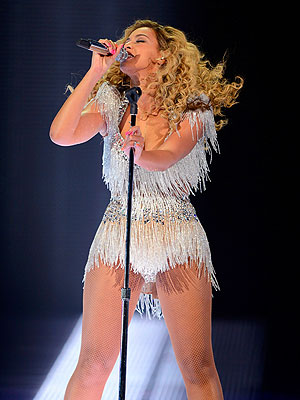 Kevin Mazur/WireImage
The inspiration for the sexy concert looks was "modern showgirl," Ralph & Russo designer Tamara Ralph tells PEOPLE. The designers worked closely with the singer to create the four couture pieces worn during the sold-out shows. "Beyoncé wanted us to be really creative and create fun and edgy designs that had an ultra-glamorous feel to them," Ralph adds.
A team of 20 couturiers worked around the clock to complete the looks, which were embellished with more than 500,000 crystals from Swarovski Elements, in just four weeks.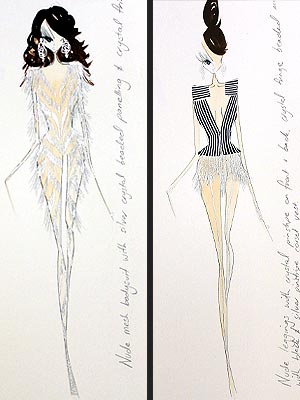 Courtesy Swarovski
"The most elaborate design was the black and silver pinstripe vest," (left) Ralph says, "as it has a corset base and sharp structural detailing which was constructed with stretch to allow for movement." Perfect for the singer's highly charged concert comeback.
"Beyoncé always delivers energetic performances and therefore we take into account the comfort and flexibility of each outfit and the ease of getting in and out of the pieces with quick costume changes," adds co-designer Michael Russo. "It was an absolute pleasure to work with her to create exquisite pieces that dazzle on stage." Tell us: What do you think of the sexy concert looks?
–Samantha McIntyre
OH BABY! SEE BEYONCÉ'S STYLISH BLUE STREAK