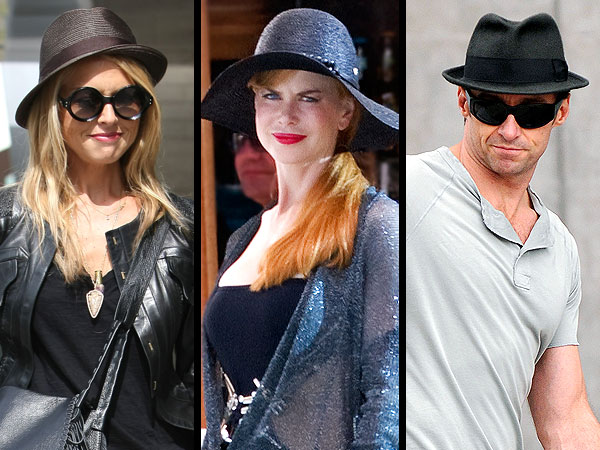 Flynet; Splash News Online; Bauer-Griffin
Look out, Kate, you've got some competition.
The Headwear Association (yep, that's a thing) this week announced its 2013 Headwear Hall of Fame inductees, and the Hollywood heavyweights include Rachel Zoe, Nicole Kidman and Hugh Jackman,
Rachel Zoe is recognized as "a lifelong devotee to hat design," having worn "a steady succession of floppies, panamas, fedoras and beanies," the organization says. She styles her clients (and her main men, husband Rodger Berman and son Skyler) in hats, and included headwear in her Rachel Zoe Collection presentations.
Kidman's honor is unique; the Association tips its hat to her for using wide-brimmed styles as a way to stay safe in the sun. "Hats are integral in the fight against melanoma and [Kidman] adds such visibility to this message," Association president Stephanie Carter says.
And Jackman "wears many hats — literally and figuratively," the group says in a release. He's "a long-time hat aficionado, and his style is oft imitated." In fact, a Boston hat store owner says that customers most frequently request the 'Hugh Jackman Hat,' coming in search of the fedoras and straw panamas the actor favors.
Cary Grant, Tom Waits and Josephine Baker round out the list of honorees; all six stars will be inducted into the Headwear Hall of Fame in April of 2013. Previously, the organization honored the Duchess of Cambridge and Johnny Depp. Tell us: What Hollywood stars do you think wear hats best? 
PHOTOS: ACCESSORIZE LIKE A STAR — FOR LESS!