Hey Dolls! Katy Perry, Nicki Minaj Barbies Auctioned for Charity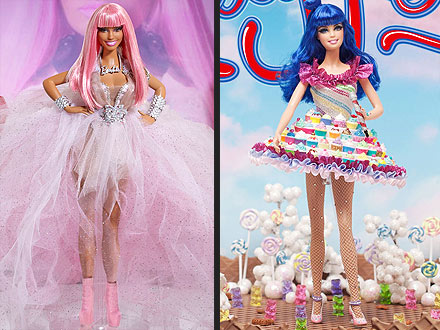 Splash News Online
OK, so you can't win a cupcake-covered Katy Perry or wig-wearing Nicki Minaj to have in your home, but you can nab miniature versions of the superstars in a new charitybuzz.com auction, running through Monday, Dec. 19.
The lovely ladies were each recently turned into Barbie dolls, and their mini-mes are part of a fundraiser for the L.A.-based charity Project Angel Food, which provides nutritious meals to men and women affected by HIV/AIDS, cancer and other life-threatening illnesses.
Perry's doll, which rocks a blue wig just like the singer often did on her California Dreams tour, wears a dress that features 70 hand-painted cupcakes and a glittery bodice, plus fishnet stockings dotted with Swarovski crystals. Designer Amy Lee even replicated Perry's tattoos, pink shoes and candy cane microphone.
Minaj's mini wears a modified version of the dress she wore on her Pink Friday album cover, complete with silk charmeuse and tulle. Designer Stephen Sumner also added the rapper's tattoos to the pink-haired doll, and hand-placed each crystal accent on her shimmering jewelry.
At press time, Perry's Barbie was going for $ 3,250, while Minaj's is up to $ 4,855. If you're not ready to shell out the dough for such big-ticket items, check out some other Barbie-themed buys in the auction, including an art deco dream house, pink girls' bike and Barbie and Ken cooking set.
LEARN HOW TO SPOIL YOURSELF LIKE A STAR