Kim Kardashian Loves Leather Leggings, But Would She Be Comfier in Something Else?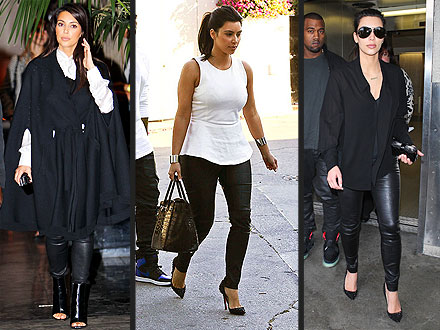 Splash News Online; AKM-GSI (2)
We know Kanye West is styling Kim Kardashian, they both look great together, they're traveling the globe, etc., etc., etc. But let's face the real fashion fact here: it's hot, and the reality starlet is dressing like it's downright chilly outside.
Don't get us wrong — we're loving most of Kardashian's new looks — but with the heat and humidity, we think she could consider making some easy clothing swaps, especially when it comes to those second-skin leather leggings.
Fergie, Zoë Saldana and Rachel Bilson are just three of many stars trying black leather shorts on for size this summer. Wearing the chic shorts would still bring edge to Kardashian's outfits — but would allow her skin to breathe, too!
If shorts are too much, may we suggest a leather pencil skirt? The silhouette would hug the starlet's curves — a look she loves — and offer a little more length than shorts. A pleated version (like Kerry Washington's) is also an option, adding girlie flair to any ensemble.
What do you think? Do you like Kardashian's leather leggings? What would you suggest she wear instead?
SHOP THESE STAR TRENDS WORTH TRYING