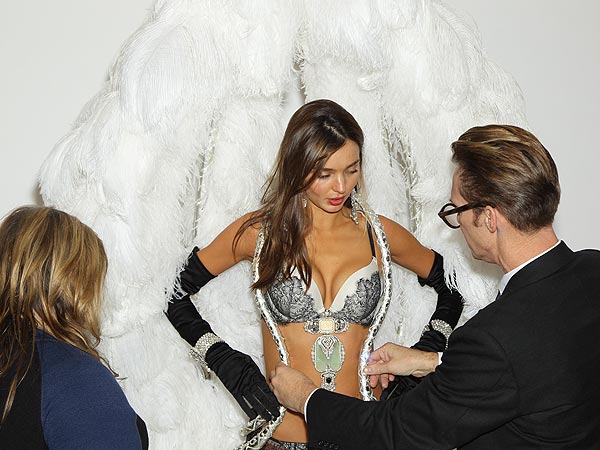 Courtesy Victoria's Secret
Just because Miranda Kerr didn't wear the $ 2.5 million Victoria's Secret 'Fantasy Bra' in the brand's fashion show this year doesn't mean she didn't get nervous before walking the runway.
"I think there is just as much pressure if you're wearing it or not because you're in underwear in front of millions of people," Kerr tells PEOPLE. "I try to enjoy it and have fun."
PEOPLE got its hands on an exclusive backstage photo of Kerr getting ready to stun at the VS fashion show in a super-sexy white-and-black ensemble (above). And though the supermodel might make looking that hot look effortless, it obviously takes work, she admits.
"I've amped up my training," she shares. "[I've been] doing a lot of Pilates, yoga, boxing and working my core, butt and legs. I also drink healthy green juices everyday, and protein shakes."
But memories of the tough training somehow fade away when Kerr hits the catwalk — this year alongside superstars Rihanna, Justin Bieber and Bruno Mars.  "I love feeling the music when I come down the runway," she shares. "The energy is incredible."
Catch Kerr and the rest of the Victoria's Secret Angels in action when the show airs Tuesday, Dec. 4 on CBS. Tell us: Will you be tuning in to the Victoria's Secret Fashion Show?
–Jennifer Cress
PHOTOS: SEE MORE GORGEOUS WOMEN IN 'LAST NIGHT'S LOOK'