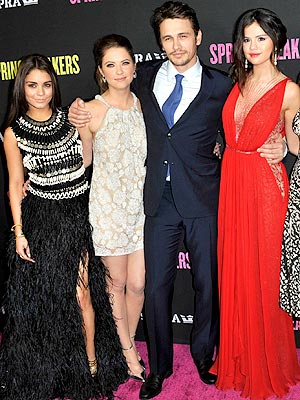 Dee Cercone/Everett
Vanessa Hudgens, Ashley Benson and Selena Gomez (at left, with James Franco) all agree on one thing about their Spring Breakers experience: They never want to see those bikinis again.
Hudgens had already told us she wanted to burn hers, and at the film's L.A. premiere, her costars concurred.
"I was over the orange top and the green little bottoms. It was a pain, actually!" Gomez says of her ill-fitting suit. And Benson agreed that she'd send her bathing suit straight to the incinerator — though it wasn't because she had to starve herself to wear it.
RELATED: Check out more stars in sexy swimwear!
"I trained, worked out and went on a clean diet for a month," Benson says of her pre-film routine. "And then I get there and [director Harmony Korine] is like, 'You guys need to gain weight.' And I'm like 'Oh my God, I just spent all this money on a trainer. I did a complete diet and now you want me to eat Taco Bell?!' I love eating anyway, so it's fine!"
And Benson says Gomez was her partner in crime to load up on greasy eats during the filming. "I love fast food. It's so bad, and [Selena] brings it out in me. Always at McDonald's," she shares. "I never go to McDonald's, but every time I'm with Selena, she makes me eat so bad. But it's so good, I love it!"
Tell us: Are you going to check out 'Spring Breakers'? And can you believe the stars got ready for the shoot with fast food?

–Alex Apatoff, reporting by Melody Chiu
RELATED PHOTOS: How stars stay svelte!