'Tarantino XX: 8-Film Collection' Art: Pam Grier As Jackie Brown (EXCLUSIVE)
Gangster fans, samurai fans, vintage surf rock connoisseurs — the holidays come early for you when the "Tarantino XX: 8-Film Collection" drops on November 20. This Blu-ray box set gathers all of QT's movies — even "True Romance"(!) — in one cool collection, and stuffed with more special goodies than a double order from Big Kahuna Burger.
But it wouldn't be a Quentin Tarantino project without some super stylin' packaging. The collection comes with a massive mural, depicting all of his iconic characters in one colorful splash. Moviefone has your exclusive first look at one piece of that mural featuring the foxy Pam Grier as Jackie Brown, with poor Zoe Bell from 'Death Proof," clinging to the hood of a car. (More info on the series below the poster.)
PHOTO: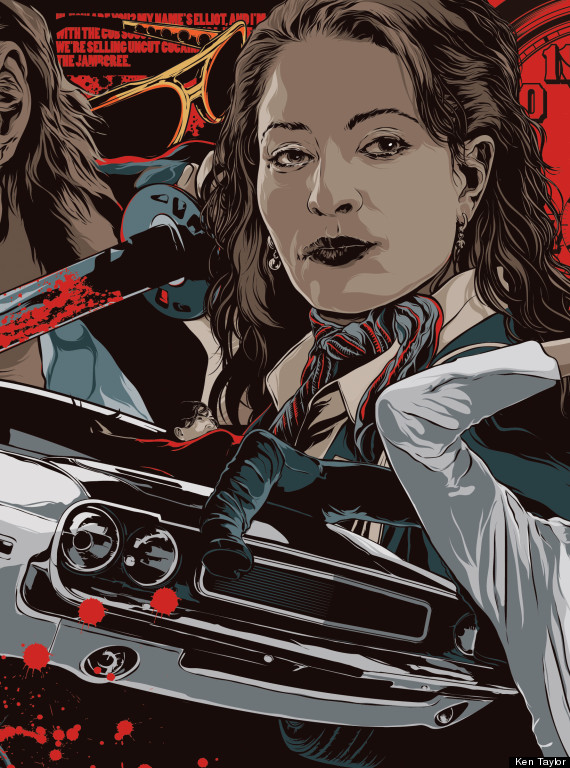 (Click to enlarge)
Follow along this week as twenty-years of Tarantino's filmmaking career are revealed in amazing panels from artist Ken Taylor's interior box set mural! Be sure to visit each of the participating sites as characters from Pulp Fiction, Jackie Brown, Inglourious Basterds and more get the Mondo treatment in celebration of the Tarantino XX: 8-Film Collection Blu-ray on November 20th!
Monday: Slashfilm
Tuesday: AOL Moviefone and Hollywood.com
Wednesday: MSN Movies and IGN
Thursday: Yahoo! Movies
Friday: Wide reveal of completed artwork!