The new campaign created by O&M reminds people it is the superior grip of SUV tyres that keeps them safe in tight situations, not superstitions
Sohini Sen | Mumbai | March 26, 2014
Ceat has launched its newest campaign showing the superiority of its tyres when it comes to preventing accidents. Created by Ogilvy & Mather, the TVC features Bollywood actor Irrfan Khan.
Ceat's range of SUV tyres are known for their superior grip. The brand, through the new campaign, wanted to reiterate the superior grip positioning of the tyres, and therefore, the preferred choice for preventing accidents.
Nitish Bajaj, VP, Marketing, Ceat Tyres, said, "SUV is our vision category where we want to have leadership share. After establishing success in the bike segment, Ceat is very keen on repeating the success in the SUV segment. The new campaign has been developed after months of research and is founded on relevant consumer insight."
Keeping all this in mind, the brand's brief to Ogilvy & Mather was to bring out the superior grip the tyres provide while creating a buzz around the brand communication. They worked on the consumer insight where people blindly hold on to superstitions just to make sure that their journey is safe.
Anup Chitnis, Executive Creative Director, Ogilvy & Mather, explained, "Every time we hit the drawing board for Ceat, we make an effort to stay out of the blind spots that the tyre category suffers from, namely, a hollow proposition and overt styling masquerading as an ad. Hence, each of our attempts at showcasing Ceat's superior grip and better control comes from a powerful insight. This time around, the insight of superstitions while driving was glaring at us in the face and it was way too juicy to pass. The best part was, even our partners at Ceat were all for this gutsy move to question driving beliefs. Speaking of gutsy, there's no one like Irrfan Khan to deliver it. It was an absolute pleasure working with him, as he also brought with him a lot of fresh ideas to the table and helped it evolve. With this new communication we hope that while driving, people will rely less on superstition for safety and more on a product that delivers."
The TVC opens with Irrfan Khan driving a SUV in rough terrain. His co-passenger is seen trying to tie a nimbu-mirchi mala which is often used to ward off ill luck. Khan is bemused and asks what that is for. The other man replies that it is for a safe journey! As they talk, a man suddenly comes in front of the car from a corner. Khan manages to hit the brake just in time, thereby preventing an accident. He tells the other man that the nimbu-mirchi won't save him, but Ceat tyres will. The next visual shows the car climbing a slope easily with the Ceat tyres. As the car moves along we can hear Khan joke that they should just make lemonade and drink it.
The plan for the campaign is to include a lot of digital innovation, which, according to the brand, will be a first in this category. It will also be extended to radio, print, outdoor and POS.
"We at Ceat conceived this campaign based on a strong consumer insight around blind belief on journey related superstitions. We have a credible face in Irrfan to give this simple message about tyres being the real saviour in any journey. The approach will be 360 degrees in nature keeping TV and digital as lead mediums. We plan to be innovators in the SUV tyre segment by creating a fresh marketing approach," said Prabhakar Tiwari, General Manager, Marketing, Ceat Tyres.
The TVC: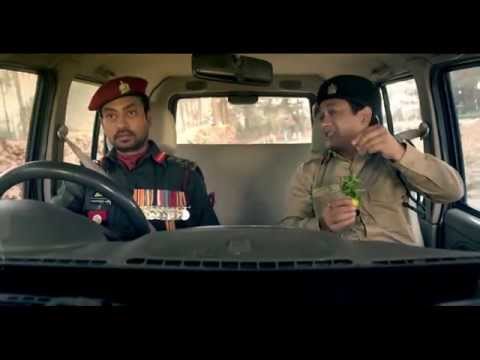 Credits:
Client: Ceat Tyres
Creative Agency: Ogilvy & Mather
Executive Creative Director: Anup Chitnis
Senior Creative Director: Mangesh Someshwar
Creative Director: Rohit Dubey
Creative Controller: Suman Adhikary
Account Management: Ajay Menon, Saurabh Achrekar, Disha Dhami
Production House: Soda Films
Director: Rajesh Krishnan
Producer: Ameya
Sohini.Sen@BestMediaInfo.com
« 'Justified' Season 5, episode 11: 'The Toll' hits home for Raylan Which Arnold Schwarzenegger Character Would Win in a Fight? (Infographic) »