Stylewatch
Style News Now
12/10/2012 at 03:00 PM ET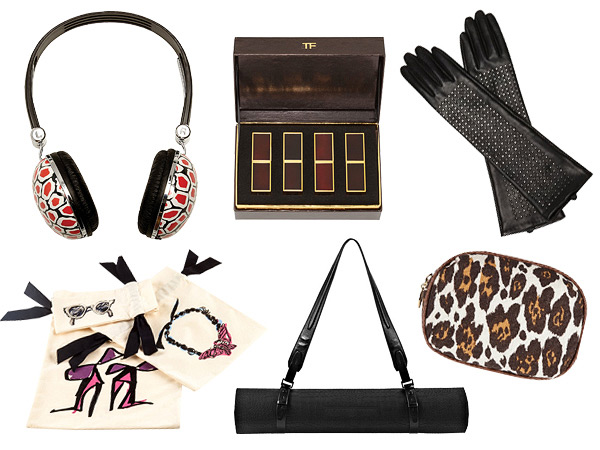 Courtesy The Zoe Report
Since we love all things fashion and beauty, we want to bring you even more cool seasonal style! So we've partnered with the pros at The ZOE Report, a daily newsletter created by Rachel Zoe, to talk clothing, makeup, accessories and more. Here are the finds they're feeling this month:
As admitted designer darlings ourselves, we know just how thrilling it is to peel open a gift-wrapped box to discover something special. This holiday season, there are a handful of little luxuries on our personal wish lists that are just too good to not share. Read on now to familiarize yourself with each splendid thing and keep in mind that the better you give, the better you'll receive!
Clockwise from top left: Diane von Furstenberg headphones ($ 75); Tom Ford four-piece lip color boxed gift set ($ 192); Brian Atwood for Target + Neiman Marcus leather gloves ($ 49.99); Stella McCartney leopard-print cosmetics case ($ 320); Alexander Wang croc-embossed rubber yoga mat ($ 150); Lanvin travel bags ($ 150).
For more daily style updates from Team Zoe, sign up for The ZOE Report. Tell us: Have you started your holiday shopping yet? 
PHOTOS: FIND YOUR DREAM HOLIDAY PARTY DRESS!