Rachel Zoe to Holiday Partygoers: Cover Up!
Stylewatch
Style News Now
12/03/2012 at 09:00 AM ET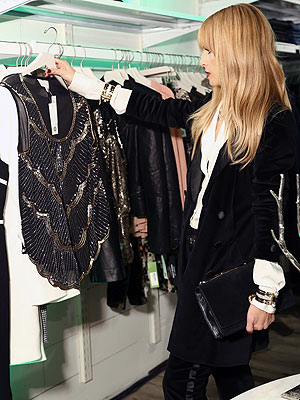 Sara Jaye Weiss/Startraks
Listen up, ladies: Rachel Zoe says holiday parties are not the place to unleash your inner vixen.
"Don't expose everything just because it's a holiday party," she said. "I think sexiness is better left to the imagination — that's always my number-one piece of advice. I think a lot of women feel that getting dressed up, especially around the holidays, means tons of cleavage and super-micro minis. But let's keep it classy."
Speaking to PEOPLE recently at the Piperlime boutique in New York's SoHo neighborhood, Zoe, dressed in a sleek pantsuit, was busy styling perfect holiday party looks that were covered, but still sexy.
Even for New Year's Eve, Zoe suggests a classy cocktail dress over a racier, plunging option. "Something like [a silver cocktail dress] is so much fun," she offered. "It says, 'Okay, I'm ready to party but I still look really chic and fun.'"
However, holiday parties don't have to be all about dresses, either; Zoe said there is lots of flexibility this season.
"I want people to know how diverse dressing for the holidays can be — there's a look for everybody," she explained. "One person's leather legging is another person's sparkly party dress."
So how will Zoe be spending her holiday season? From the sounds of it, by staying far away from the party scene, ironically.
"For the holidays, I just want to be with my family and not work and relax for 10 days," she shared. "And just kiss my son 10,000 times a day." Tell us: Have you picked your perfect holiday party outfit yet?
–Kate Hogan
PHOTOS: FIND CLASSY HOLIDAY PARTY OUTFIT INSPIRATION
Skip back to main navigation