Stylewatch
Style News Now
02/08/2013 at 06:00 PM ET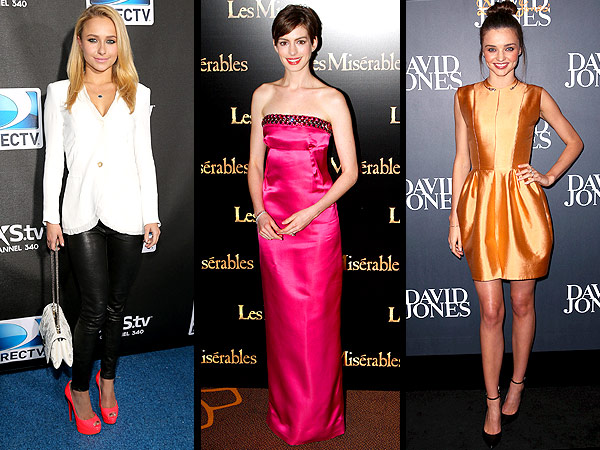 Getty; Splash News Online; WireImage
We like to think we're fairly on top of trends, but we'll admit that this week, the most popular red carpet looks had us scratching our heads. Surprisingly, platform heels seemed to be having a huge moment (after weeks of single-sole pumps) and stars appeared to be paying tribute to Cupid's upcoming big day. Meanwhile, the ever on-trend topknot is nowhere to be seen. Read on for the details…
Up: Peep-toe Platforms. Expect to see lots of super-tall celebs at the Grammys. Stars seem to be trading style for comfort, because we're noting way fewer sexy (read: painful) sandals and many more open-toe stackers. Hayden Panettiere, Jennifer Lawrence, Jennifer Garner and Sarah Hyland all put their best foot forward this week in the inches-adding heels.
Up: Valentine's-Themed Dresses. Around Feb. 14, most people avoid reds and pinks to avoid looking like a human Valentine. But surprisingly, some of the most fashion-forward starlets, including Anne Hathaway, Sarah Jessica Parker, Lena Dunham, Naomi Watts and Jessica Alba all donned a lovey-dovey hue.
Down: Topknots.This funky hairstyle has been a longtime staple on the carpet, but stars are giving the severe look a rest — that is, except for Miranda Kerr, who is one of the few still rocking the 'do. Most ladies are letting their hair down and sporting soft waves instead.
For more on which trends to follow check out our thoughts on polka dots, furry accents and slits.
Tell us: Which trend do you hope to see at the Grammys? Vote in our poll below! 
Take Our Poll
–Jennifer Cress
PHOTOS: SEE OUR FAVORITE DRESSES OF AWARDS SEASON — SO FAR!
« 'Community' ratings rise for Season 4: Wait, what? Saoirse Ronan Also Joins Ryan Gosling's How to Catch a Monster »