Stylewatch
Style News Now
05/10/2013 at 06:00 PM ET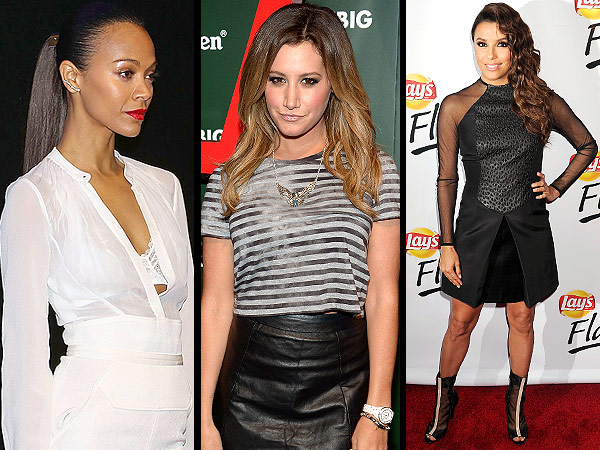 WireImage; Getty; WireImage
In our weekly round-up of what we're seeing sizzle (and fizzle) on the red carpet, we saw bracelets get swapped out for plain ol' wristwatches, an abundance of lovely, slicked-back strands — and one instance of confused-weather footwear that we think can be retired right about now.
Up: Elegant ponytails. Perhaps blame it on the transitional weather, but plenty of stars this week opted to smooth their hair back into elegant, classic ponytails and not risk the frizz factor. Zoë Saldana had one of our favorites, but Julianne Hough, Olivia Munn, Miranda Kerr and Heidi Klum have all worn their hair tightly pulled back into a pretty, simple style.
Up: Watches on the red carpet. Watches are always classic, but stars often forgo them on the red carpet in favor of stacks of bangles or ropes of diamonds. And we often forget to fasten ours on, since we typically rely on our phone for telling the time. But since we saw three very different versions on Ashley Tisdale, Jordin Sparks and Kerry Washington, we're ready to declare that night-out watches are having a major moment, so add yours to the arm party this weekend.
RELATED PHOTOS: Vote on more star style here!
Down: Peep-toe booties. This is a look that requires a lot of panache to pull off. It also requires that the weather be just too hot for boots, but not warm enough for sandals. We're not sure which outfit these shoes are meant for, but since only Eva Longoria was wearing them out this week, it appears that this particular red-carpet trend may be on the decline.
RELATED PHOTOS: Vote on each star's best angle in "Style 360!"
For more on which trends to follow, check out our thoughts on funky pants and bad bronzer.
Take Our Poll
–Alex Apatoff