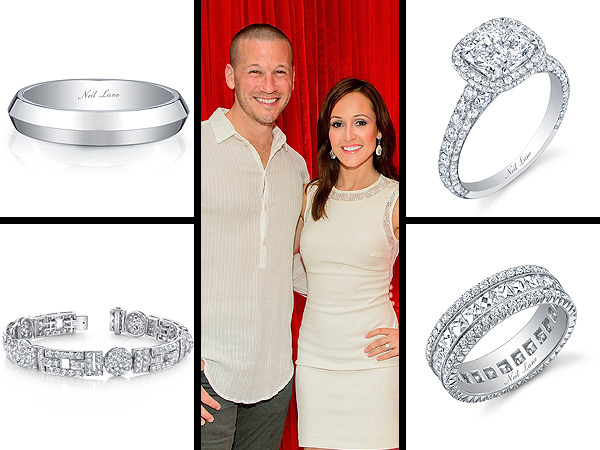 Courtesy Neil Lane (4); Victor Chavez/Getty
Neil Lane wants to make one thing clear about newlyweds Ashley Hebert and J.P. Rosenbaum: "Seriously, J.P. and Ashley are so in love," the celebrity jeweler tells PEOPLE of the Bachelorette season 7 stars. "Say what you will about reality TV, this is real-life love and they're in this forever!"
So what better way to celebrate such affection than with some serious wedding bling? "We wanted to do something very special for their bands and all of Ashley's wedding jewelry," says Lane, who also designed Hebert's 3.5-carat, central cushion-cut engagement ring (above) for Rosenbaum's May 2011 proposal. "All three of us worked together on the bands over the last month and for Ashley, we created a design for a handmade, platinum band with French-cut diamonds in the middle section bordered by round diamonds on the side (above)."
For his, "J.P. wanted something stylish and unusual but not too blingy," Lane says. The upshot? A wide platinum band with a raised elliptical edge in the middle (above) "for a 3D [look]."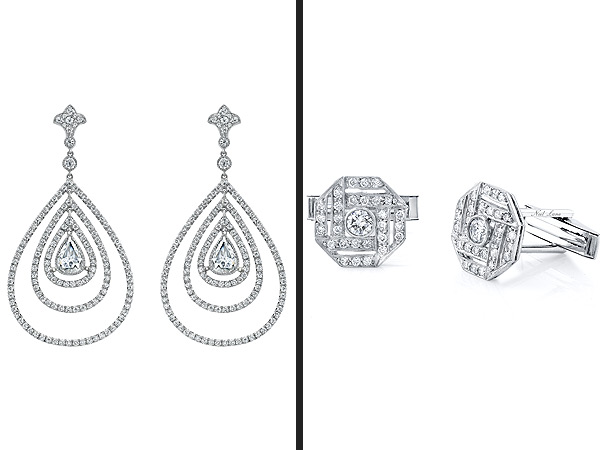 Courtesy Neil Lane (2)
Rounding out the couple's wedding jewelry were 5-carat diamond-and-platinum cufflinks (above) for Rosenbaum ("J.P. wanted a little sparkle and glam on his cuff," says Lane) and for Hebert, 10 carats of vintage, Indian-style drop earrings (above) and more than 30 carats in diamond bracelets (top).
"They loved the jewelry — and they really love each other," says Lane, who first met the couple in Fiji toward the end of their season (see photo below). "When I first got to know them in Fiji, I knew they were going to last. They were so affectionate and then when I've seen them since it was clear they were a very true, inseparable couple ready to go on life's journey together. It's like they have goo-goo eyes for each other! They're love-struck!" Tell us: Are you a fan of Ashley and J.P.'s gems?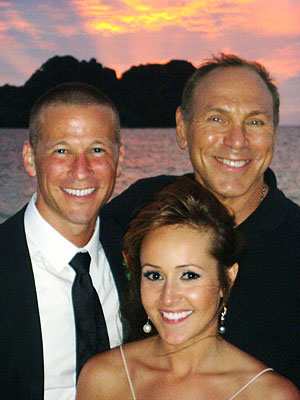 Courtesy Neil Lane
–Elizabeth Leonard
HAVE AN AMAZING ENGAGEMENT RING OF YOUR OWN? SHOW US HERE!