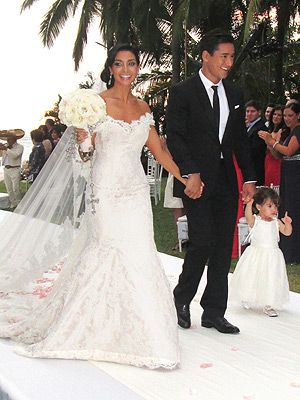 FameFlynet
Many brides wear an updo for their big day because it allows the dress to really take center stage. But Courtney Mazza did so for an unexpected (and sentimental) reason when she tied the knot outdoors with Mario Lopez in Punta Mita, Mexico on Saturday.
"It was very important that [Courtney] had her hair up because Mario loves her hair pulled back," Mazza's hair stylist, Marc Mena, tells PEOPLE. "He met her with short hair, so he loves her having hair away from her face … And when I saw Mario right after the wedding, he told me, 'I never thought you could make my wife look even more beautiful than she did that day.'"
Mazza donned a side-parted low chignon inspired by old Mexican actresses, but Mena (who also did the couple's daughter Gia's flower girl 'do) notes that Lopez wasn't the only one who loved the bride's look. "Her mother was in awe — and just by the look of her mother's eyes Courtney knew it was spectacular," Mena says of the sweet moment that happened before Mazza took a look in the mirror. "And once [Courtney] saw it, she said, 'This is exactly how I pictured myself to look on the day of my wedding.'"
To get the hairstyle, Mena started by curling each section of Mazza's dark brown hair with a 1-in. iron, then brushed out the curls and created a deep side part. Mena then pulled her hair into a low chignon, completing the look with a bedazzled hairpiece. "We added a beautiful crystal comb [that curved around her chignon] in the back, so all you would see through the veil is sparkles."
But Lopez's new bride let her hair down — literally — for the reception. "After dessert she changed dresses — [the second Ines Di Santo dress] was very sparkly … It was a whole different feel," Mena explains. "So we took her hair down and she had this Veronica Lake wave." Tell us: What do you think of Mazza's wedding day hairdo?
–Jennifer Cress, reporting by Jackie Fields
PHOTOS: SEE MORE STAR HAIRSTYLES FROM EVERY ANGLE!