'Brave' Easter Eggs: Pixar Sneaks In 'Toy Story,' 'Monsters Inc.' References (PHOTOS)
Brave
Since ancient times, stories of epic battles and mystical legends have been passed through the generations across the rugged … Read More
(53)
Casual Pixar fans have come to expect a lot from each movie, including boundary-pushing animation, an incredible story and at least one A-list comedian. However, die-hard Pixar fans have come to expect easter eggs — hidden gems inside the films that reference previous Pixar flicks (for example, take the Luxo Ball from the first Pixar short, which has since appeared in all three "Toy Story" films, "Up" and "Monster's Inc.").
However, there must've been some concern when the animation studio first announced "Brave," a story set in the medieval era. How would the filmmakers be able to incorporate the other famous films and faces in a world so far away? The answer, as always: by getting a little creative.
Disney has just released two new stills from "Brave," which assure fans that the easter egg tradition is still going strong.
The first is a whittling of the Pizza Truck from 1995's "Toy Story" (which has now appeared in nearly all of their films). The second shows a carving of the larger-than-life blue monster Sully from "Monsters. Inc." (He'll be back in theaters next year in Pixar's prequel, "Monsters University.")
Both moments occurred during Princess Merida's trip to the witch's house in the woods (the witch had disguised herself as a woodcarver).
You can check out both photos below.
(Click to enlarge)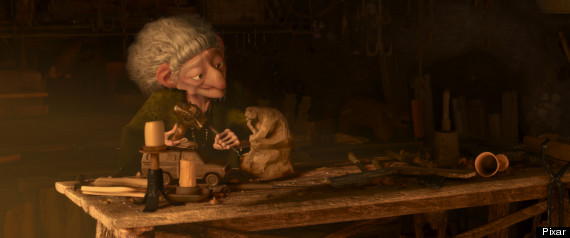 (Click to enlarge)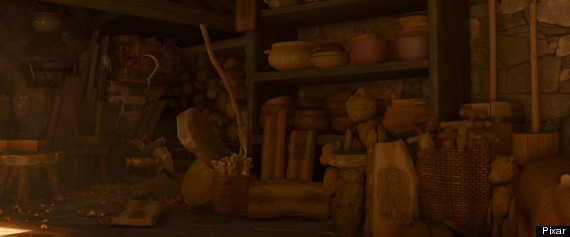 Earlier on Moviefone: