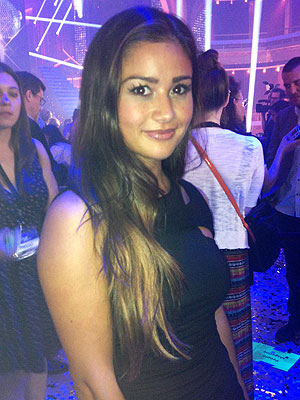 Courtesy Dahvi Shira
Tuesday night's Dancing with the Stars finale may have earned winners Kellie Pickler and Derek Hough the most attention — but Catherine Giudici, the fiancée of former DWTS contestant Sean Lowe, certainly didn't go unnoticed.
The recent Bachelor winner debuted a new ombré hair color that took her dark brown hair to a lighter shade that fades into a honey hue.
"I wanted to change my hair because we moved to L.A. — and I thought [tonight] would be a good time to debut it and have it mean something a little bit more than on just a regular Tuesday," Giudici told PEOPLE in the confetti-filled ballroom right after the show ended.
RELATED PHOTOS: See more bold star hair switch-ups here!
The reality starlet, who saw colorist Erick Orellana, of Beverly Hills's Jonathan & George salon, says the process of choosing what to do with her hair was "a collaboration for sure."
Explains Giudici: "I love it. Just being in the sun, it's definitely going to punch it up as it goes on. [Orellana] knew I was low maintenance. I don't always want to come back and do roots."
Agrees Orellana, "It's a natural looking color that doesn't require changing what she originally had," he says. "It actually enhances natural darker features for a lighter, summery golden look with less upkeep."
But above all else, Giudici — who had previewed the look on Instagram — got the stamp of approval for her new look from the one who matters most.
"Sean loves it," she says of Lowe. "He picked me up [from the salon] and said it was beautiful. He's happy with it."
Tell us: Do you agree with Sean?

–Dahvi Shira