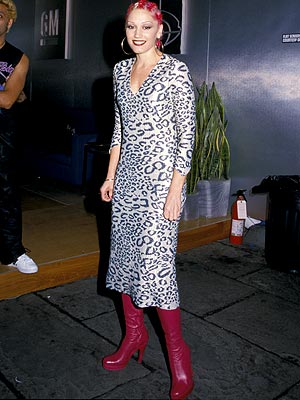 Ron Galella/Wireimage
Perhaps, like us, you've tried to block out most of the fashion and beauty from the year 2000. There were some bad moments during that time period, but when we came across this photo of Gwen Stefani from February of that year, we just couldn't keep it to ourselves.
You probably remember that the singer, now known for her signature platinum locks, had pink hair for a while. But we had completely forgotten that she rocked cornrows at the same time. We dug back in our archives looking for old photos of Stefani to celebrate this week's release of No Doubt's new CD, Push and Shove.
It wasn't just the hair she had that left our jaws on the floor, though. It was also the hair Stefani didn't have. We're referring to those barely-there eyebrows. She complemented the look with knee-high magenta boots, a leopard-print midi and extra-large gold hoops.
Quite a different Stefani than we're used to seeing nowadays. But if this flashback proves anything, it's that the singer has always been fashion-forward and unafraid to take risks. Thankfully, her risks no longer involve a bottle of neon Manic Panic. Tell us: Would you like to see Stefani return to her pink roots? Or should she try another color in lieu of her blonde strands?
–Jennifer Cress
SHOP CELEBRITY LOOKS WE ACTUALLY APPROVE OF