Jennifer Lopez Gets a Lap Dance in Las Vegas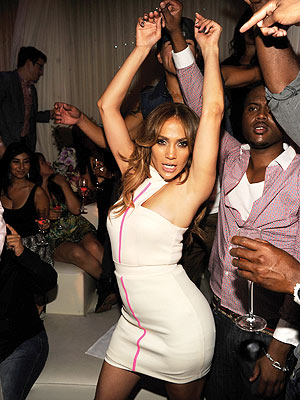 Jennifer Lopez let loose in Las Vegas on Saturday night, taking her own advice from her hit single "On the Floor" – to "dance the night away."
Following her performance at the iHeartRadio music festival, Lopez headed to Pure Nightclub with an entourage of more than a dozen people, including her backup dancers. Dressed in a short cream dress with pink stripes, Lopez hung out in the club's elevated VIP area, sipping Dom Perignon Rose as her music videos played on two oversized screens at each end of the club.
By all accounts, Lopez has bounced back from her split with husband Marc Anthony and is into having a good time. About an hour after arriving at Pure, "one of her dancers took his shirt and gave her a lap dance," a source tells PEOPLE. "She was laughing and loving it."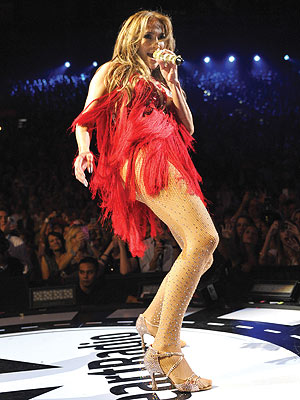 Surrounded by her crew and security guards, Lopez was at times barely visible at her VIP table but came to the front when DJ Irie played "On the Floor." She sang along to her song and shook hands with fans clamoring for a glimpse of the returning American Idol judge.
Later, Lopez danced on the couch in her private area when the deejay played songs by Rihanna and the Black Eyes Peas before leaving the club at 3:30 a.m.