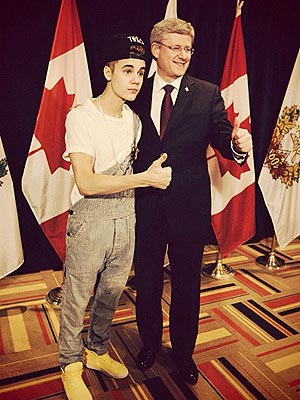 Courtesy Justin Bieber
After the drop-crotch pants controversy of 2012, we were hoping Justin Bieber would listen to our advice and invest in some sexy slim-cut jeans or a nice pair of trousers.
But wow, we were wrong.
This past weekend, the pop star received a Diamond Jubilee Medal from Canada's Prime Minister, Stephen Harper, and wore half-buckled overalls for the occasion. But after being raked over the coals by the Daily Mail ("Would a suit hurt, Justin?" they wrote) and Gawker — which called him a "white trash prince" — the Biebs fought back:
"The pic of me and the Prime Minister was taken in a room in the arena where I was performing that day," he wrote on Instagram on Sunday, specifically targeting Daily Mail writer Hayley Peterson. "I walked straight from my meet and greet to him, if you "Hayley" expect me to have a change of clothes let a loan [sic] a suit at that specific time that's crazy, It wasn't like it was like I was going into his environment we were at a hockey arena. Wow am I ever white trash hayley peterson lol."
We understand Bieber's point — it's not like he was at the Prime Minister's residence, and the boy is crazy busy — but on the other hand … overalls. Really Justin? Tell us: Do you think Bieber's overalls were trendy or tacky? Vote in our poll below! 
Take Our Poll
LOVE IT OR LEAVE IT? VOTE ON STAR LOOKS!