Ladies Get In on Charity Moustache Madness with 'Defember'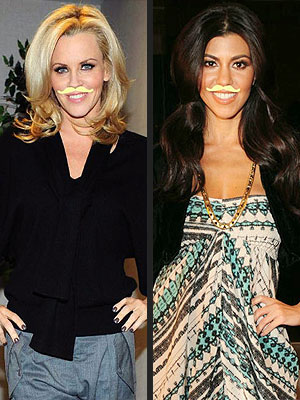 Courtesy Jenny McCarthy; Courtesy Kourtney Kardashian
True, we don't love to talk about it, but sometimes it happens: upper lip hair. That dark, pesky 'misstache' that's not so flattering can be a pain — though often a necessity — to disguise or remove.
To make the process a little more enjoyable, Olay is making a play on the popular Movember charity movement and talking up Defember, a campaign encouraging women to defuzz for a cause. For every woman who visits Olay's Facebook page and pledges to nix her misstache this month, the brand will donate one dollar (up to $ 50,000) to the National Breast Cancer Foundation.
A slew of celebrities — including Jenny McCarthy, Kourtney Kardashian, LaLa Anthony and Real Housewives star Kelly Bensimon — are already in on the fun, and have pledged their support through silly TwitPics they created using Olay's MISStache Swap Facebook app. Learn more — and lend your support to the cause — at olay.com/defember.
STUDY UP ON STAR-TESTED BEAUTY TIPS