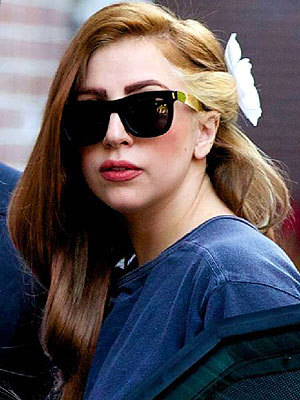 Gerben Pul/WENN
Lady Gaga changes her hair as often as most people change their clothes. So when the superstar debuts a new color, we are rarely shocked, no matter how shocking the color actually is.
But boy did the Mother Monster throw us a curveball on Monday while out and about in Amsterdam: she revealed she'd done the unexpected and dyed her mane brown!
Not yellow, turquoise or rainbow – just a classic chestnut color.
However, the queen of opulent fashion doesn't think it's such a run-of-the-mill shade: on Monday, she Tweeted, "I am LOUIS VUITTON BROWN. BI$ !& THATS LV," along with a photo of herself in the midst of the dyeing process. She also left "one streak of bad" (uh, blonde?) by her left ear for flair. And though she later admitted it's a bit "boring," she also called her new color "fun." Our opinion? It actually looks kind of great. Tell us: What do you think of Gaga's tame brown hair?
–Jennifer Cress
SHARE YOUR THOUGHTS ON MORE STARS' HAIRSTYLES