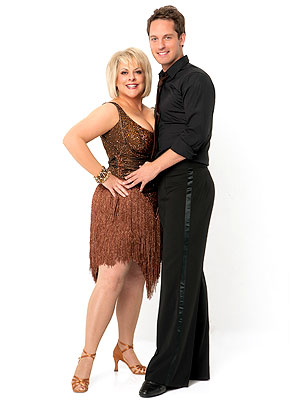 "I feel like Cinderella that got invited to the ball. I don't know how to dance," Nancy Grace said of being asked to compete on season 13 of Dancing with the Stars. "I don't know what I'm going to wear, but I know I have been invited!"
Now the HLN legal analyst has an idea of what she'll wear when the competition begins Sept. 19 (8 p.m. ET): In her official portrait she's donning a frilly bronze dress with a low-cut sparkling top.
As for learning to dance, she must have some idea about that now, as well. In a video posted on YouTube (watch below), Grace, 51, introduces her partner, Tristan MacManus.
"I met my partner today, Tristan from Ireland," she says in the video of the handsome, tattooed professional ballroom dancer. "He has competed all over the world, all the way to the world championship in Latvia. And now he's trying to teach me how to do the cha cha."
And it sounds like MacManus, who performed on season 12 of Dancing as part of the show's dance troupe, has is work cut out for him.
"He's pushing me around the ballroom dance floor like I'm a wheelbarrow," Grace says.
"There's a new boss in town now," MacManus says.
Adds Grace, "So watch out, Maks!"