Nicole Kidman Reveals Her Red Carpet Weakness
Stylewatch
Style News Now
10/08/2012 at 09:00 AM ET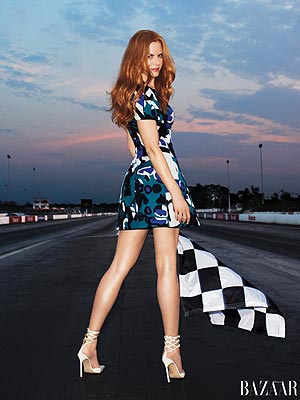 Courtesy Harper's Bazaar
Nicole Kidman is tall, slender and gorgeous, but even she has insecurities.
"I find standing and posing for photos very awkward," the actress says in the November issue of Harper's Bazaar. "Red-carpet truths!"
Posing (not at all awkwardly) for a cover and spread in the magazine's "Daring Issue," Kidman wears looks by designers like Emilio Pucci, Missoni, Oscar de la Renta and Versace.
However, it's that Dior dress, the one that Kidman wore to the 1997 Oscars, that comes up in conversation.
"It's packed in a box with tissue paper, and it will be donated to a museum," she shares. As for her other couture pieces, "whichever daughter loves clothes more will get dibs on those."
So far, it seems older daughter Sunday is winning that contest; Kidman reveals that she tries on dresses while her 4-year-old sits on the floor. And having such down-to-earth moments with her family seemingly helps the star brush off the endless cycle of gossip that comes with fame.
"As you get older … all of that other stuff becomes less important," she says. "Like, I've always had a little belly. I mean, now that I'm 45, they don't say, 'Oh, she's pregnant!' as much. But I've got skinny arms and legs, and then I've got a little belly." Uh, Nicole, trust us: You look pretty damn good.
For more with Kidman, pick up the November issue of Harper's Bazaar, on newsstands Oct. 23, and visit harpersbazaar.com/nicolekidman for the full interview and even more stylish photos.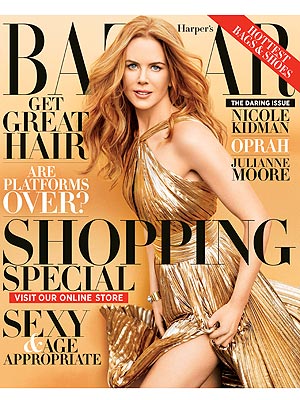 Courtesy Harper's Bazaar
–Kate Hogan
PHOTOS: DROOL OVER THE MOST GORGEOUS RED CARPET GOWNS