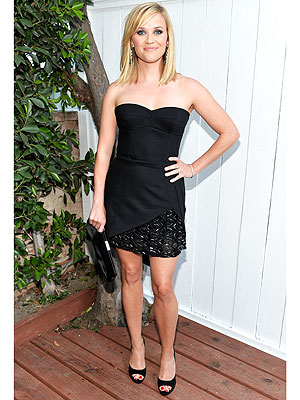 Alberto E. Rodriguez/Getty
Looks like black is back as a StyleWatcher fave! Not only did Reese Witherspoon blow away the competition in her simple black look at Benjamin Millepied's dance benefit in L.A., your top four best-dressed stars this week are all wearing black numbers.
And though we are still wondering where all that summer color is (c'mon, ladies, it's nearly July!) we can't deny that Witherspoon kills it in this simple strapless look. The embellished hem really adds a pop of sparkle that keeps basic from being boring — and the mini length perfectly showcases her fabulous stems.
RELATED PHOTOS: Check out the rest of the Top 10 Best Dressed stars here!
We just wish she hadn't stopped there, perhaps livening up the look with a neon clutch or bold blue pumps? Even her 13-year-old daughter Ava knows to brighten up basic black with a little color!
But you obviously thought she didn't need to change a thing; despite some stiff competition from Zoë Saldana and Sandra Bullock in drop-dead dresses, Reese took the top spot by a landslide. Our takeaway from this week's top 10: Safe and steady can trump the competition as long as there's a little element of surprise.
Tell us: Do you think Reese Witherspoon deserved the top spot? If not, who did?
–Rosie Lai