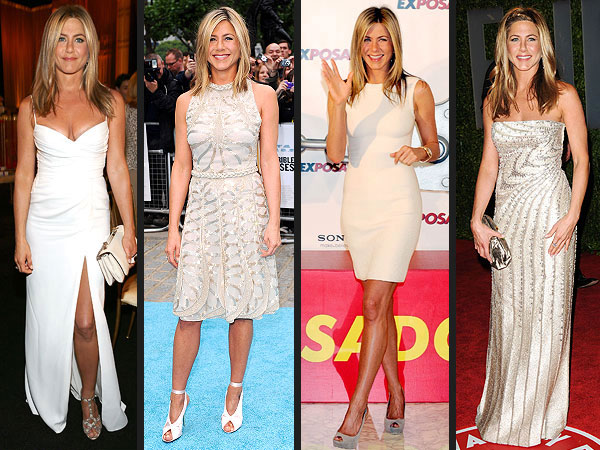 Getty; Landov; INF; JPI
Yes, she's engaged, yes, we're excited, and yes, we're already thinking about what she'll wear. Jennifer Aniston's big news isn't even 24 hours old yet, but already, the Internet is teeming with speculation about wedding dress designers and colors. So we decided to imagine, too.
Aniston hasn't worn many white dresses on the red carpet in her time, however, there are a few standouts. In June, at the AFI Life Achievement Awards in Los Angeles, she flaunted her gorgeous gams in a sexy low-cut Burberry gown with a thigh-high slit (left). A year earlier, she worked a girly, shimmering Valentino frock for a Horrible Bosses premiere in London (second from left).
Even before that, there was the simple white sheath she wore to a Bounty Hunter photo call in Madrid (second from right). And for the Oscars in 2009, she went for full-on glamour in a glitzy, strapless Valentino Haute Couture gown, finished with lots of sparkle (right).
When the time does come to go dress shopping, Aniston will likely have her pick of gorgeous gowns. But in the meantime, which silhouette do you think is best for her? Vote in our poll below! 
Take Our Poll
–Kate Hogan
COOLER TOGETHER: JEN & JUSTIN'S COORDINATING STYLE