Why Carrie Ann Inaba Wore Pink on Monday's 'Dancing with the Stars'
Stylewatch
Style News Now
10/09/2012 at 05:00 PM ET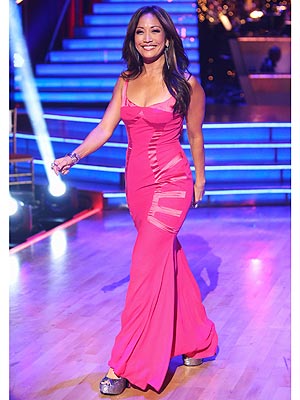 Adam Taylor/ABC
We loved Carrie Ann Inaba's Tina Turner-inspired look on last Monday's Dancing with the Stars. But the dress she wore last night came with a more serious story, as she tells us:
Monday night on Dancing with the Stars, I chose to wear pink in honor of Breast Cancer Awareness Month (don't forget your mammograms, ladies!).
It all really started with the shoes. I found these amazing vegan silver-and-pink shoes from Michael Antonio (Kaelan Pewter, $ 72). It was love at first sight — fashionable, wallet- and animal-friendly. I emailed [stylist Kit Scarbo], who pulled a beautiful Gai Mattiolo pink gown that had fun, geometric paneling. And we were ready to spread awareness!
This was a very fitted gown, so I skipped the tortellini at lunch, but I loved the way the dress hugged my body. After losing 15 pounds this summer, it was nice to be able to wear a dress like this.
The edgy bling that Kit found tonight: aggressive vintage white sapphire triangle drop earrings and a great diamond cuff with concentric lines by Lauren G. Adams, plus three different diamond rings (I love my jewelry!).
Anna Maria Orzano styled my hair in soft, feminine waves with darker extensions for more contrast against the dress. Joanne McCarthy did the initial makeup — she tried a new lash on me, as well as a great, darker lip with a highlighted center to give my lips more depth. Touch-ups throughout the show were done by Valerie Pensky.
This was one of my favorite looks to date. It was softer and feminine — I read the comments last week, where someone suggested softer, and I was inspired. But most importantly, we had a message: Breast Cancer Awareness Month.

–Carrie Ann Inaba
PHOTOS: SHOP STAR LOOKS — FOR LESS!