Adrien Brody Rocks the Runway for Prada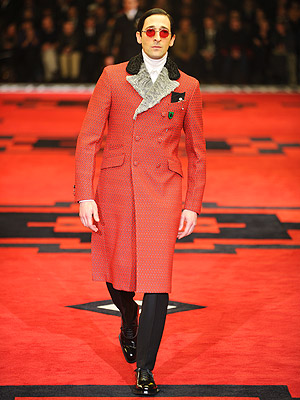 WWD/Corbis
Zoolander wasn't available, but Adrien Brody was the perfect model for Prada's fall 2012 menswear show in Milan Sunday. The actor, who skipped the Golden Globes to walk the Prada runway, hit the catwalk in a double-breasted red coat with a black velvet collar and fur-trimmed lapel — plus matching red sunglasses.
Joining Brody were several other A-list stars, including Willem Dafoe, Gary Oldman, Tim Roth, Emile Hirsch and Jamie Bell. But according to the New York Times's "On the Runway" blog, not all of them appeared to possess that modeling gene.
Writer Eric Wilson called Bell and Hirsch "suitably somber" but lacking in height, joking, "No offense, fellas, but modeling is for tall folk." Meanwhile, he criticized Tron: Legacy actor Garrett Hedlund for committing "two cardinal sins of modeling — first making eye contact with the audience and second, he didn't seem to know what to do with his hands." Chalk it up to first-time nerves?
Though the models were hit or miss, the clothes earned decent reviews from the Times and Associated Press. "It's about power," designer Miuccia Prada told the Times of her collection, staged on a giant red carpet. "But it started with the idea of characters." Tell us: Would you like to see Brody work the runway?
Skip back to main navigation